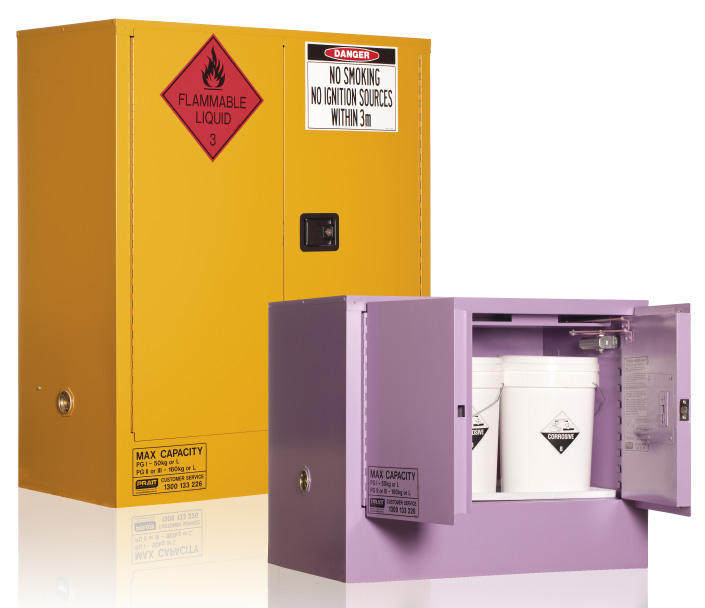 If your workplace is storing hazardous materials you are legally required to identify ways to eliminate or minimise associated risks.
Key risks of storing dangerous goods include escape or spillage of goods, fires or explosions resulting from dangerous goods, and self-reacting goods, according to the SafeWork NSW Code of practice on managing risks of hazardous chemicals.
As with any hazard, it is vital to first carry out a risk assessment. Determine the risks associated with the materials being stored and establish a hierarchy of control for managing those risks.
The SafeWork NSW Code describes a 10-step guide to risk assessment for storing dangerous goods:
Decide who will do it.
Identify the dangerous goods in use, along with storage and associated hazards.
Identify areas and persons at risk.
Review information, including any relevant safety data sheets (SDS) and Australian Standards.
Identify external hazards and how these could impinge on the dangerous goods.
Estimate risks in each situation.
Reach conclusions about risks.
Identify and evaluate suitable control measures.
Adopt control measures.
Review the effectiveness of control measures.
Dangerous goods storage cabinets
Dangerous goods storage cabinets are one important control measure and are specifically designed to keep chemicals and other hazardous materials safe and secure.
However it's not just a matter of throwing all your dangerous goods into a cabinet and they will be safe. Specific cabinets are designed for specific hazardous material and it's important to match the material to the storage cabinet.
Furthermore the risk of an incident can be heightened by the incompatibility of different hazardous materials being stored within the same storage cabinet. It is important to classify the hazardous materials and avoid storing incompatible materials together.
Building and documenting safety and emergency plans and procedures can also help you store dangerous goods safely. Some important points include:
Consult the chemical's Safety Data Sheet (SDS) which will outline storage, handling and disposal guidelines along with any potential health, first aid and emergency response and firefighting measures as well as transport information, the chemical's stability, potential reactivity and its environmental effects.
Consider factors like where materials are stored in the cabinet, the quantity of materials and the environmental storage conditions like temperature, moisture, light and how those factors may affect the storage of the materials.
Determine if the materials or chemicals that are being stored were to leak, whether they could they react adversely to each other?
Create spill containment and fire containment (if materials are flammable) strategies in the event of leakage.
Encourage Hazard reporting:
Encouraging hazard reporting is a crucial ingredient to ensuring risks are identified and managed to prevent incidents. It is in the interests of all employees to encourage risk minimisation – not ignore them.
About Pratt Dangerous Goods Storage Cabinets
Pratt Safety's storage cabinets are specifically created and customised to safely store eight categories of hazardous materials.
Flammable Liquids
Corrosive (Metal)
Corrosive (Polyethylene)
Toxic substances
Oxidising Agents
Organic Peroxide
Flammable Solid
Spontaneously Combustible
Dangerous When Wet
All cabinets are designed and manufactured to comply with all of the relevant Australian Standards.