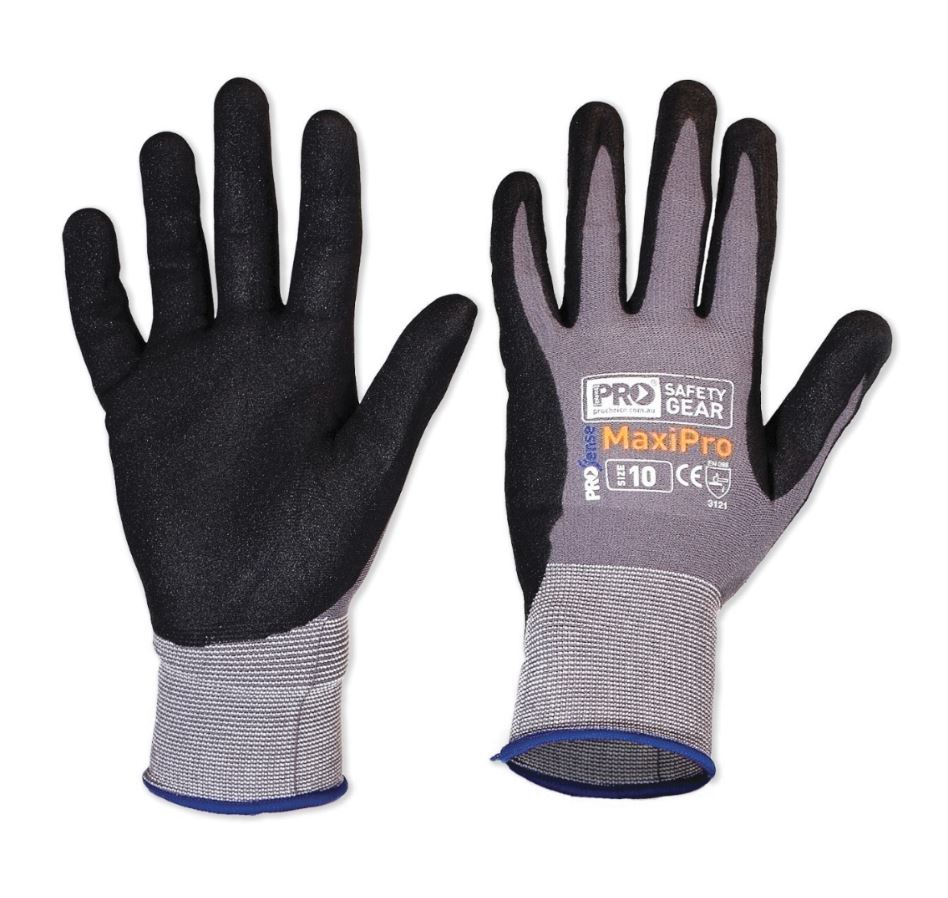 "The following information should be used a guide only and should be used in conjunction with the wearers own comprehensive risk assessment."
Workers expect their safety gloves to offer excellent grip along with resistance to cuts, oils, chemicals abrasions, burns and punctures, all without compromising dexterity, or feel.
To deliver this, glove coatings or "dips" are applied to safety gloves to improve glove performance and protective properties.
However different glove coatings are designed for different applications and work best with different materials, meaning selecting the correct coating is critical.
The wrong glove coating choice could lead to grip or dexterity being compromised when it is needed most, as well as oil or chemicals soaking through the glove and affecting the wearer's skin.
This is dangerous in itself, and because it will discourage glove use and compliance. Uncomfortable, inappropriate or inhibiting gloves are a major reason workers choose not to use any glove.
To help you choose the correct safety glove coating, we outline the most common glove coatings below and which glove coating is best for various applications and industries.
Nitrile rubber:
Nitrile rubber is a durable glove coating offering excellent resistance to physical hazards such as punctures, cuts, snags and abrasion. Pro Safety Gear's high quality nitrile rubber also provides excellent dry grip and is impervious to oil, solvents, grease and some acids and caustics.
Nitrile rubber glove coatings are best suited for chemical handling, auto assembly, petro-chemical and food processing. Nitrile's excellent all-round performance means it is a very popular glove coating.
Sensitivity: 7/10
Flexibility: 6/10
Wet grip: 6/10
Dry grip: 7/10
Oil/grease handling: 8/10
Chemicals handling: 9/10
Latex:
Made from natural rubber, latex glove coatings offer excellent elasticity and outstanding grip and temperature resistance while still offering good cut resistance and chemical protection against alcohols and solvents.
Latex coatings offer protection against ketones and mild acids however offer poor chemical resistance against most hydrocarbon and organic solvents. They are best suited to janitorial, food processing and general maintenance applications.
Being a natural material, Latex has a shorter lifespan than other glove coatings. Also, it can cause allergic reactions in some people, most commonly in the form of allergic dermatitis.
Sensitivity: 8/10
Flexibility: 9/10
Wet grip: 7/10
Dry grip: 9/10
Oil/grease handling: 6/10
Chemicals handling: 7/10
Polyurethane (PU):
Polyurethane (PU) glove coatings provide excellent flexibility and grip in both wet and dry conditions without feeling sticky. They also offer good protection from oil, grease and water soluble chemicals such as cleaning chemicals.
PU is a low cost coating and therefore remains a popular choice, however is not particularly durable so may cost you more in the long run.
It also does not off great heat resistance. In addition, it can cause sweaty or clammy hands which in itself can be hazardous as the hand can move around in the glove. This is mostly true, especially if the glove is not a good fit.
Sensitivity: 9/10
Flexibility: 8/10
Wet grip: 7/10
Dry grip: 7/10
Oil/grease handling: 6/10
Chemicals handling: 5/10
PVC / Vinyl:
Polyvinyl Chloride (PVC) or vinyl glove coatings offer durability with good wet and dry grip and good abrasion resistance, however may be susceptible to punctures, cuts, and snags and do not offer as good a sensitivity as other glove coatings.
One of the more common glove coatings, PVC-coated gloves are a popular alternative to riggers gloves. They are commonly used in industries such as, fisheries, construction, janitorial, gardening and general Maintenance.
PVC glove coatings offer good protection against many water soluble chemicals. It includes cleaning chemicals (acids and alkaline) and are also an ideal alternative for those with latex allergies.
Sensitivity: 4/10
Flexibility: 4/10
Wet grip: 5/10
Dry grip: 6/10
Oil/grease handling: 9/10
Chemicals handling: 8/10
Neoprene:
Neoprene glove coatings offer exceptionally flexibility, are long-lasting and have good abrasion and cut resistance.
Moreover, they are also excellent for chemical handling. They have a high resistance to most solvents, mild acids, oils and fats and offer good resistance to sunlight, ozone, oxidation and weather.
Hence, neoprene glove coatings are popular in automotive, mechanical and janitorial industries as well as chemical processing and handling.
Sensitivity: 7/10
Flexibility: 8/10
Wet grip: 7/10
Dry grip: 8/10
Oil/grease handling: 9/10
Chemicals handling: 9/10
READ MORE ON HAND PROTECTION