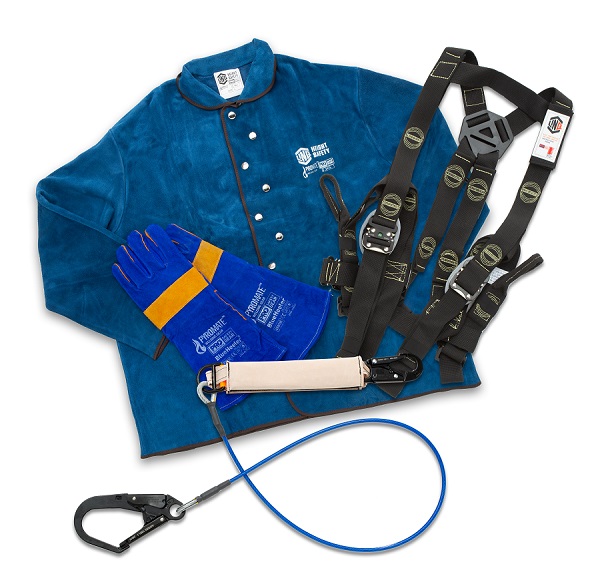 Welding is a task with numerous hazards such as electrocution, burns, fires, explosions and toxic fumes. And welding at heights adds a whole new dimension of risk.
With 11 per cent of workplace deaths in 2003–15 related to falls from heights, and the construction industry accounting for 37 per cent of these deaths, welding at heights is not an area for lapses in workplace health and safety (WHS).
In response to this need LINQ Height Safety Products has launched a range of new products focusing on the safety of workers welding at heights. That includes the their Hot Works Harness, a wire rope lanyard with pig skin cover and a welding jacket specifically designed for working at heights.
Welding at heights jacket:
The welding at heights jacket is a new design from LINQ, made from high quality cow-split chrome leather and Kevlar stitching for increased heat resistance and durability.
It features a rear velcro flap which allows a rear D attachment point to easily attach the harness to a fall arrest component such as a rear attachment, inertia reel, self-retracting lifeline or retractable lanyard.
The welding jacket is able to protect wearers from abrasion, heat, welding splatter and dags, as well as protect any harness underneath the jacket from the same.
"Leather is very good at protecting against high heat. It's a bit of armour really – when welding dags hit it, it acts like a shield," explained national category manager at LINQ Height Safety Products, Paul Bozkurt.
Bozkurt added that with appropriate care, the jacket would likely outlast other synthetic materials.
"If you adhere to the cleaning and care instructions and wipe it with a mild detergent after every use, then the jacket will last a long time," he said.
The welding at heights jacket can also be used as a regular welding jacket for work on the ground, making it perfect for workers who only weld at heights occasionally.
Furthermore, when used in addition to the Hot Works Harness, which prevents welding splatter from melting like polyester can, then it provides additional protection for the wearer's sleeves.
It makes safety when welding at heights accessible to everyone, according to Bozkurt.
"The jacket comes into play where cost is an issue as it eliminates the need for a specific Hot Works Harness," he said.
"You can get a $110 basic harness and the welding jacket for $160."
Wire rope lanyard with pig skin cover:
Another key component of LINQ's welding at heights safety range is the wire rope lanyard with pig skin cover.
The wire rope lanyard is metal wire with an outer PVC coating, chosen for its durability, as well as an energy absorber that can protect a worker of up to 160 kilograms – including their tools and equipment – in the event of a fall.
The pig skin cover allows the wearer to protect the energy absorber from welding splatter.
LINQ's Hot Works Harness and Pro Choice Safety Gear's welding gloves complete the new LINQ welding at heights range, providing workers with the peace of mind they need and helping employers meet their work health and safety obligations.
READ MORE ON HEIGHT SAFETY
READ MORE ON HEIGHT SAFETY