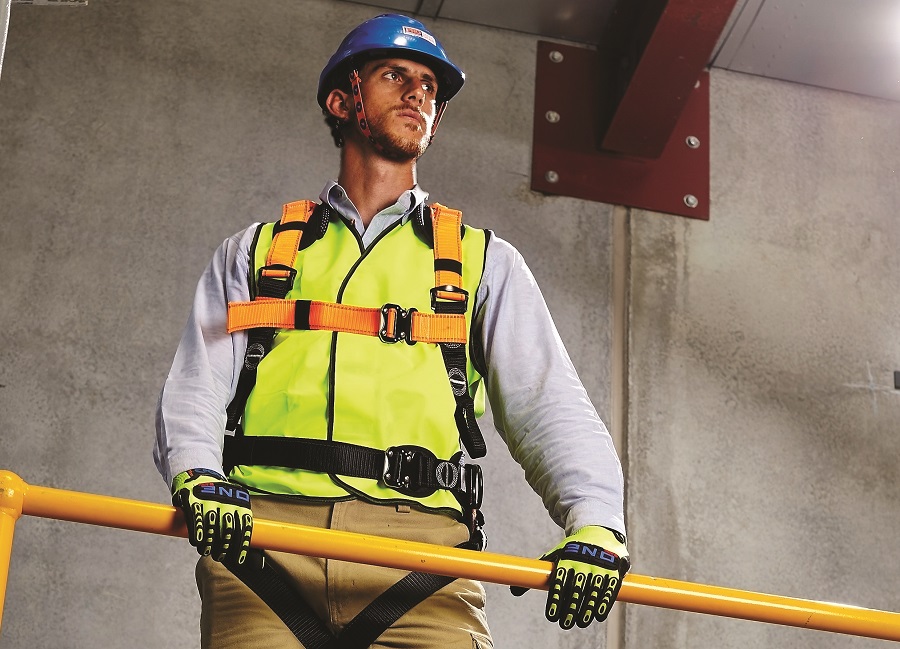 Always wear a hard hat:
Falls from height often results in head injuries. In fact head injuries accounted for 76 per cent of all fatalities from a fall during 2008 – 11.
Plant operator, Peter Haines has experienced first-hand the importance of wearing a hard hat when working at height. He fell five metres from a ladder in 2016 while wearing a ProChoice V6 hard hat.
"The paramedics couldn't work out why I didn't have any head or neck injuries. They later put it down to the hard hat," he said.
"They think that was what saved me… The impact was so hard it cracked the hard hat."
Harness fit and design is critical:
A correctly sized and adjusted harness is critical to ensuring it protects you, however many people think they are wearing a correctly fitted harness when they are not (see the importance of training below).
Harnesses are not one-size fits all and if incorrectly fitted, change the force distribution during the moment of impact, leading to increased injuries.
The webbing should sit snugly under the buttocks and the chest strap should sit just under the sternum.
Harnesses should also be designed with a closed loop system at the back and have a central front attachment point.
Beware of suspension trauma:
If you are ever caught hanging in a harness, its tourniquet effect, combined with the effect of gravity on the body can lead to potentially deadly "suspension trauma".
The leg muscles – which are not being used as you hang – will also struggle to pump blood against gravity to the heart, brain and other vital organs.
By using a harness with a suspension trauma strap, in the event of hanging in the harness you will be able to stand in the strap, eliminate the tourniquet effect and stimulate the muscles that pump blood back to the body's vital organs – potentially saving your life.
Check the anchor point integrity:
Some 31 per cent of anchor point installations are potentially fatal according to a 2014 survey by the Working at Heights Association (WAHA).
The problem arises from the lack of mandatory or competency-based training or relevant licensing of installers of fall-prevention equipment (such as anchors, guard railings and access ladders), according to WAHA spokesperson, Carl Sachs.
"Anyone with a credit card and a cordless drill can install this equipment and work at heights," Sachs said.
The structural integrity of the substrate the anchor point is bolted to is a key concern for Executive Officer, Safety and Risk at Master Builders NSW, David Solomon.
"You can certify something all you like but … that is not going to prevent the anchor point pulling out of a 0.6mm piece of tin roofing," he said.
"If I was hanging off someone's tin roof I would want the sheet lifted to see if the anchor could withstand me falling."
Height safety is the law:
Under workplace health and safety (WHS) legislation it is a requirement for a Person Conducting a Business Undertaking (PCBU) to have fall protection in place: a harness, edge protection, scaffolding, a scissor lift or otherwise.
While legislation and the national code of practice used to apply when someone was working at a height of two metres or more, the revised code means employers are now obligated to reduce the risk of a fall from any height.
The Australian Standards – AS/NZS1891 – for industrial fall arrest systems and AS/NZS1657 for ladders, guardrail, platform and walkways are both referenced in the code, meaning it is essential to meet both standards.
Choosing products that have certified compliance to these standards will help.
Training is Critical:
People who have been appropriately trained have the insight to make educated decisions and are provided the skills to use equipment correctly.
Height safety training will provide workers with detailed insight and experience in dealing with all things covered in this article – and more.
READ MORE ON HEIGHT SAFETY
READ MORE ON HEIGHT SAFETY