Height Safety
Welding at height? A LINQ Hot Works Harness might save your life.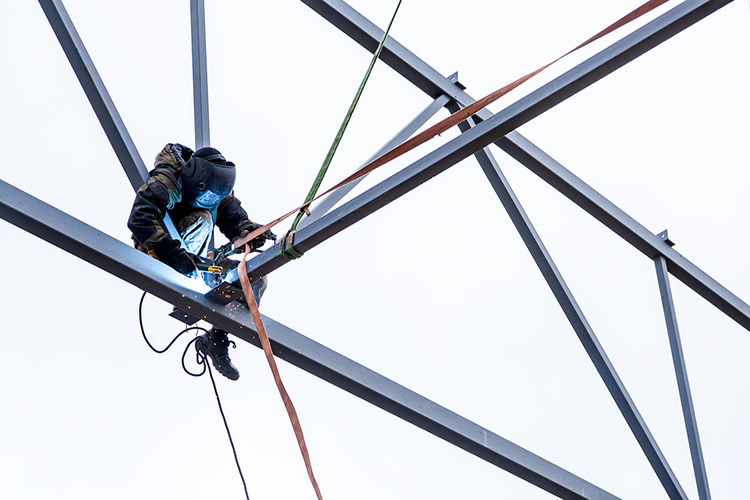 LINQ Height Safety has developed a flame-resistant harness to increase safety for those welding at heights, as national category manager Paul Pozkurt explains.
If you or your workers are welding at heights, wearing a traditional polyester harness could be potentially deadly if welding splatter hits it and compromises its integrity.
To help protect welders, boilermakers and maintenance workers who are working at heights or in confined spaces, LINQ Height Safety Products has developed the "Hot Works Harness" – a flame-resistant harness made with Kevlar® and Nomex® fibres.
With SAI Global's 5 Ticks Certification, the harness provides workers peace of mind that they're safe when welding at heights. And it provides employers peace of mind that they are fulfilling their duty of care.
Hot Works Harness Design:
According to Paul Bozkurt, national category manager at LINQ Height Safety Products, the Hot Works Harness is modelled from their Essential Harness, with some key differences.
"Rather than using polyester, the harness has Kevlar® underneath and Nomex® on the outside," said Bozkurt.
"This way, if workers are welding and the welding splatter hits the harness or webbing, it will simply ash, whereas traditional polyester will potentially melt, seriously compromising the wearer's safety."
While the Hot Works Harness will still need to be discarded if this occurs, imminent danger is avoided.
The Hot Works Harness also has quick release buckles, making it easier for workers to put on and remove the harness. The buckles also help rescuers to get workers out of the harness in the event of a fall.
And like the Essential Harness and others in the LINQ range, the Hot Works Harness has padding under the leg loops for extra comfort and is designed to minimise the force applied to the body during the Moment of Impact (MOI).
Employer responsibility:
According to Bozkurt, employers have an obligation and a responsibility to supply workers with personal protective equipment (PPE) that will ensure their safety.
"If employers provide products which are not fit for purpose they could be held responsible in the event of an incident," he said.
"If you have workers welding at heights, providing them with harnesses specifically designed for welding will help ensure you deliver duty of care."
Asked which applications the harness was most commonly used in, Bozkurt said: "any environment that requires maintenance and shut down work, work in confined spaces and anywhere involving welding at height,".
The Moment of Impact (MOI):
The Moment of Impact (MOI) is the point when a worker's fall arrest system engages to prevent the worker's fall. As well as a harness, a shock absorbing lanyard is critical to minimise the risk of injury in the event of a fall.
During a non-absorbed fall (one without a lanyard), the body can experience a g-force of 25. A lanyard can significantly reduce that to much safer levels.
However, even if the appropriate fall arrest system is used but not worn or fitted correctly, serious injuries can occur such as broken ribs, punctured lungs and even head injuries resulting in death.
LINQ's research has shown that a significant number of fallen workers are rescued unconscious as a result of fall arrest hardware hitting the head during the MOI.
As a result, LINQ developed a 'closed loop system' that prevents the dee from moving during the MOI, keeping the attachment hardware safely away from the worker's head.
Additionally and unlike many certified harnesses sold in Australia, the front attachment point sits firmly in the centre, in line with the Australian Standard [AS/NZS 1891.1], and is held in place by two extra-large belay loops, keeping the front attachment away from the head.
At LINQ Height Safety Products, we are dedicated to creating harnesses and lanyards for safety without compromise and our new Hot Works Harness is no exception.
Try our Hot Works Harness:
The Hot Works Harness can be purchased at a LINQ Height Safety stockist and has a RRP of $530. For more information call 1300 LINQ HS (1300 546 747) and we can direct you to a supplier.
READ MORE ON HEIGHT SAFETY
READ MORE ON HEIGHT SAFETY