Hi Vis
Reduced Visibility – Is Your Work Site at Risk?
In 2012, 29 Australian workers were killed as a result of being hit by moving objects, with vehicles involved in 22 of these incidents. As we head into winter, the reduced visibility that comes with darker days and wetter weather puts workers at increased risk – especially when operating or working around vehicles and heavy machinery.
Taking the following measures to ensure your workers are highly visible on site could be the difference that saves lives.
Hi Vis Vests

Hi Vis Vests lose their effectiveness when dirty or faded. Workers should check vests regularly to ensure they are clean and bright. Reflective strips should be in excellent condition and not worn or peeling.
Vests should be in compliance with Australian Standards AS/NZS 4602:1999. Choose Class D/N for use in day, night, dawn, dusk, and in poor weather conditions where there is illumination from headlights. Reflective strips must be 50mm and compliant with Class N (AS/NZS 1906.4:1997).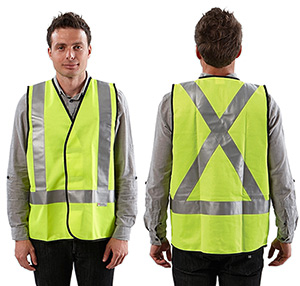 Hi Vis PPE 
Vests are not the only way to stay visible on a work site. As we head into winter it is a good idea to invest in some Hi-Vis PPE. Providing Hi Vis Hard Hats, Gloves and Earmuffs will keep heads and hands where co-workers can see them, minimising the chances of any unwanted amputations.

Lighting 
By law, every workplace must have suitable and sufficient lighting. Places where work is done around moving vehicles should be well lit and lights carefully angled so as not to dazzle drivers either directly or through their mirrors. Check lights regularly to ensure they are in proper working condition and covers are clean. Walk around the grounds at night and identify areas that could benefit from increased light, or areas that could get away with less.
Don't let reduced visibility darken your safety record this winter, follow the above guidelines to ensure your workers can see and be seen, everywhere on the work site.