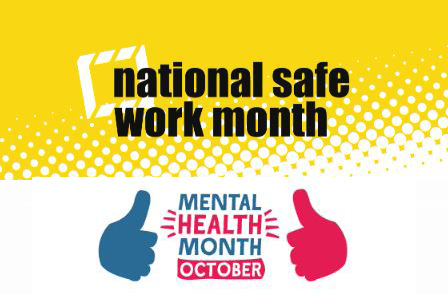 October is Mental Health and National Safe Work Month, reminding us that every worker has the right to a physically and mentally healthy workplace.
Workplace mental health and safety is critical for staff wellbeing and productivity so we take a look at how the two initiatives interconnect and how employers can help improve workplace mental health and safety.
National Safe Work Month
National Safe Work Month is an initiative by Safe Work Australia (SWA), promoting safe and healthy workplaces for all Australians.
According to SWA, work-related injury and disease cost the Australian community $61.8 billion in the 2012-2013 financial year.
This year's Safe Work Month theme is "a moment is all it takes" – prompting people to take a moment's thought before performing an action or activity to prevent safety incidents.
This could be a simple as meeting with your team for five minutes every morning to discuss workplace hazards and how you can minimise associated risks.
Or, it could mean taking a moment to ask a coworker how they're feeling and how they could manage workplace psychosocial hazards including long work hours, sleep deprivation, poor environmental conditions, isolation and exposure to traumatic events such as a vehicle accident or workplace injury.
Check out SWA's website to learn more about how you can get involved with National Safe Work Month.
Mental Health Month
October 10 is World Mental Health Day and October is Mental Health Month. This year's theme is "Share the Journey" – encouraging people to open up and share experiences with family, friends and coworkers if they're struggling.
To prepare people for Mental Health Month, Way Ahead – NSW's mental health association – created shareable, electronic postcards inviting people to "share a cuppa", task or meal.
Mental health and safety in the workplace
According to SWA, each year 7,200 Australians are compensated for work-related mental health conditions – also known as psychological injuries, making up around six per cent of all compensation claims.
Most work-related mental health conditions are related to work-related stress, with the top causes being work pressure, work-related harassment, bullying and exposure to workplace violence.
And blue-collar industries face increased risk. Suicide rates in the Australian construction industry are 20 to 30 per cent higher than the national male average.
That is reflected in FIFO workers where tough working conditions and a 'suck it up' culture have led to higher rates of mental health issues.
This is partly due to the stigma surrounding mental health, where one-third of blue-collar men think anxiety or depression is 'weak' or 'soft'.
The role of employers:
According to the Black Dog Institute, mental illness costs workplaces "$11 billion per year through absenteeism, reduced work performance, increased turnover and compensation claims".
Mental illness is also associated with high levels of presenteeism – where people continue to work while experiencing symptoms, reducing productivity.
Improving the mental health of workers will likely provide excellent financial return and legislation requires employers to provide a safe and healthy workplace.
Therefore, it is critical for employers and workers to proactively identify psychosocial hazards and implement appropriate control measures.
Furthermore, employers must not discriminate against, harass or victimise an employee because they have a mental illness.
To learn more about employers' responsibilities around workplace mental health and safety, check out SWA's national guidance on work-related psychological health and safety.
READ MORE ON MENTAL HEALTH
READ MORE ON MENTAL HEALTH