OHS
Safety guide for automotive mechanic workshops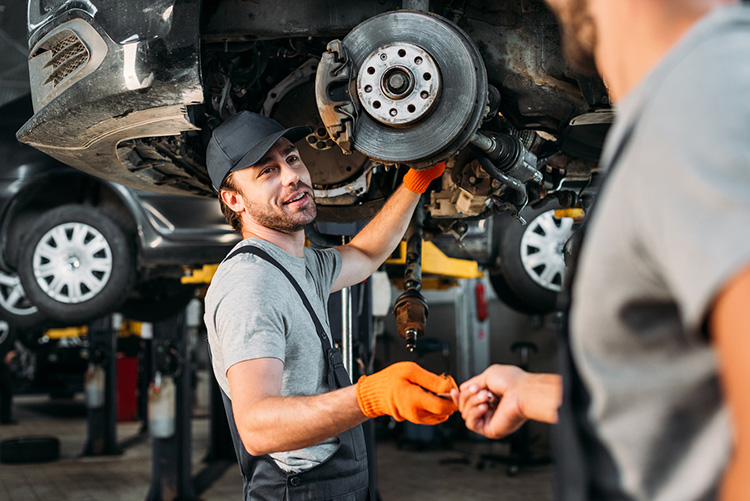 In 2014–15, automotive electricians and mechanics made 1,760 serious workers' compensation claims, involving at least one week away from work.
The median work time lost was four working weeks and the median compensation paid was $10,300, according to SafeWork Australia.
With safety risks in an automotive workshop covering many different areas, including hazardous manual tasks, machinery and equipment, slips, trips and falls, confined spaces, traffic management and hazardous substances, there is a lot of scope for things to go wrong if appropriate safety measures aren't taken.
This guide gives an overview of the different hazards to be aware of when working in a mechanic's workshop, as well as appropriate safety procedures to implement.
Manual tasks:
Musculoskeletal injuries are the most common and costly workplace injury. Any task that is performed with high, sudden, repeated or sustained force can place stress on the body.
Mechanics will often be bending, stretching or reaching, lifting or moving equipment and materials, and working in awkward positions, such as under car bonnets. In particular, this can occur when wheel and tyre fitting, or when working inside vehicle cabins and under vehicles.
Using mechanical aids, devices or equipment, such as hoists, cranes and underslides, can reduce the need for heavy lifting, awkward postures and body stressing. Other control measures include modifying workplace layouts, workloads, work patterns and rotations, and providing adequate training for workers in heavy lifting and other hazardous manual tasks.
Young and new workers, in particular, are at a greater risk of lifelong injuries due to being unconditioned for work. This can be mitigated through pre-employment testing and appropriate training to job harden them.
Machinery and equipment, including noise:
Machinery, power tools and hand tools, as well as anything with moving parts, pose a safety risk.
This can be controlled by regularly servicing and maintaining equipment, conducting risk assessments, and following appropriate safety and operation procedures, including adequately guarding machinery.
Tight clothing should be worn and jewellery removed to prevent catching. Other appropriate personal protective equipment (PPE) could include safety glasses or goggles, steel-capped boots and protective gloves.
Angle grinders, compressors and compressed gases, electrical equipment, vehicle hoists, jacks, ramps and stands, and welding are also usually present in a mechanic's workshop and require specific safety procedures to be in place.
Noise is also a big concern when working with engines, machinery and power tools—a certainty in any workshop. Even moderate levels of noise can cause permanent hearing loss.
A workplace noise assessment can help to identify noise hazards, who is being exposed and how to avoid ear injuries. Choosing the right hearing PPE for workers is also essential as a last line of defence.
Slips, trips and falls:
Injuries caused by slips, trips and falls are one of the top five most common workplace injuries.
Ladders are a particular source of danger and appropriate safety procedures should be followed when using them.
Other hazards that can lead to slips, trips and falls include service pits, falling objects, and poorly maintained, uneven, slippery or unstable walkways, floors, stairs and landings. Equipment, boxes, materials and tools should be stored so as not to present a trip hazard.
Confined spaces:
Working in confined spaces, such as service pits, present hazards around air quality, fire dangers, crushing and trapping, and noise levels. Appropriate safety controls should be in place to mitigate these risks, including never working alone, good ventilation and respirators.
Traffic management:
Any moving vehicles in a worksite, including cars, trucks and forklifts, present a hazard. Mechanic workshops should have a traffic management plan in place to reduce the risk of injuries occurring.
Hazardous substances and chemicals:
Many hazardous substances and chemicals are present in a mechanic's workshop, but especially vehicle emissions, paint fumes and welding fumes. Asbestos, batteries, lead, solvents, petrol and gas cylinders, dust and powders may also be found.
Safety procedures should address the health risks associated with each hazardous substance, as well as issues around the correct storage of dangerous goods to prevent fires and explosions. Matching PPE to the hazard, such as choosing gloves with the right coating, is vital.