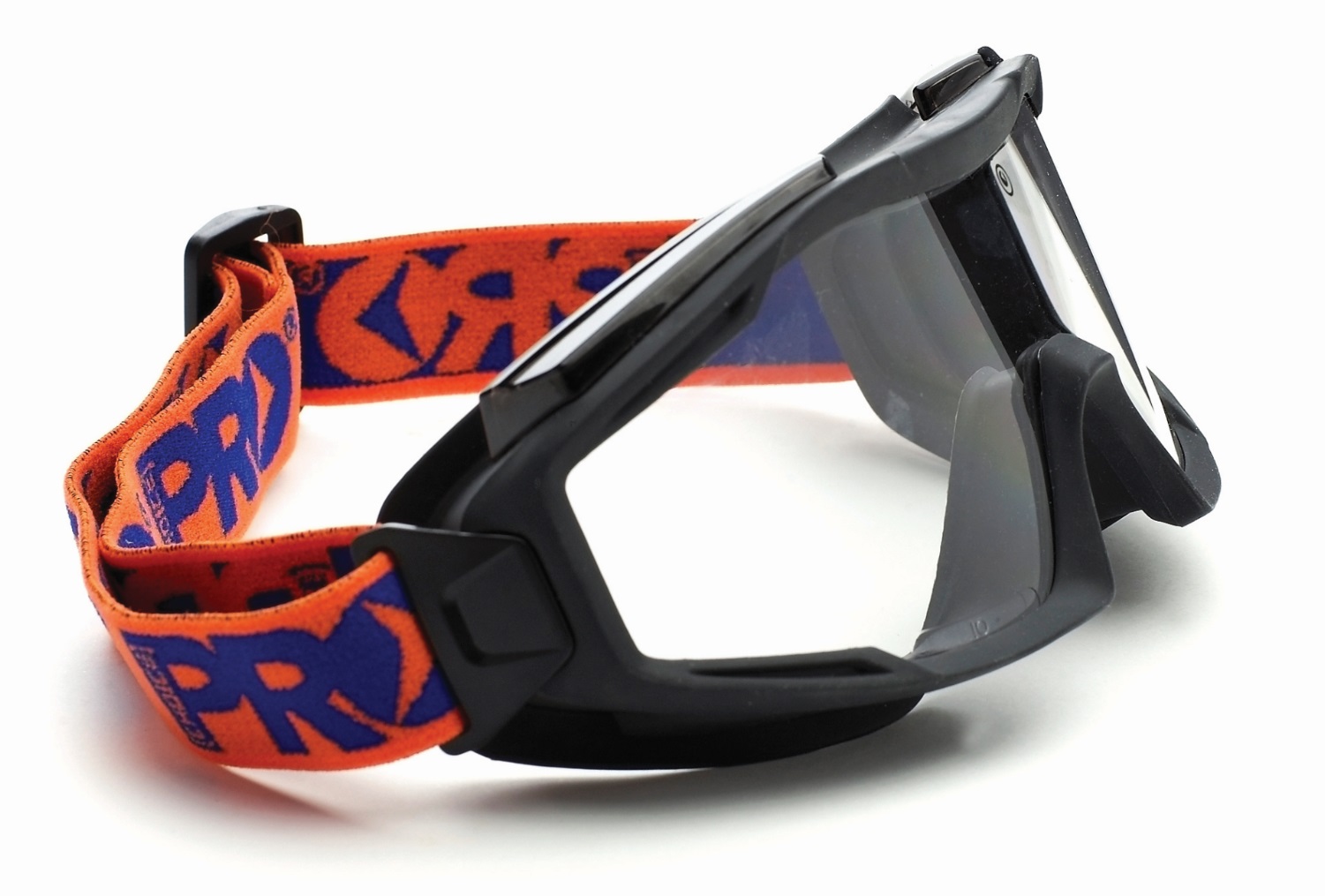 Comparing Eye Protection
Regarding PPE and eye protection, which situations does choosing safety glasses vs goggles vs face shields fare better? Apparently, Australians suffer around 50.000 eye injuries every year even though many of them were wearing eye protection at the time of their injury.
Surprisingly, safety eyewear is often incorrectly fitted. In addition, it is not rated appropriately for the task. Worse is, however, it usually does not provide adequate protection. Subsequently, injuries often occur when foreign bodies enter under, over or around the sides of the safety eyewear, according to a 2008 report from Safe Work Australia (SWA).
As a consequence, these eye injuries can lead to permanent vision loss, contributing to depression and negatively affect work and social relationships, as described in a Comcare "Eye Health in the Workplace" guide.
Moreover, the most dangerous injuries for the eyes are construction, mining, agriculture, forestry and fishing industries, in which 60 per cent of all eye injuries in Australia occur. In fact, chemical splashes, metal or plastic debris hitting the eye, tools accidentally striking the face, and improper use of equipment are the most common causes.
Therefore, it is critical you have the appropriate eye protection. To put it differently, knowing when to use medium, high or extra high impact rated eye protection. Namely, when to use safety glasses, safety goggles, face shields or a combination of these.
Choosing your impact rating
Firstly, eye protection impact ratings are determined by its ability to withstand an impact. Specifically, from a weighted ball without cracking, detaching or dislodging, breaking or coming into contact with the eye or the head.
Low Impact: Can withstand impact from an object moving at 12 metres per second.
Medium Impact: Can withstand impact from an object moving up to 45 metres per second.
High Impact: Can withstand impact from an object moving up to 120 metres per second.
Extra High Impact: Can withstand impact from an object moving up to 190 metres per second.
Impact resistance Certification:
Accordingly, all ProChoice safety eyewear is rated medium impact or higher, have polycarbonate lenses; 99.9% UV protection and are Certified to AS/NZS1337.1:2010 Standards. In other words, that Certification means you have quality assurance that the product will perform as stated. Hence, check your safety eyewear to see if it has the Australian Standards logo which indicates they conform to tests for impact resistance.

Choosing Impact Resistance:
To illustrate, Figure 1.0 outlines how different ratings are marked while Figure 1.1 provides broad guidance on what impact protection rating should be considered for different tasks. Although this information should not be relied upon to determine suitable safety eyewear. Actually, a risk assessment should be carried out by a qualified OHS professional to choose which PPE suits your work environment.
Figure 1.0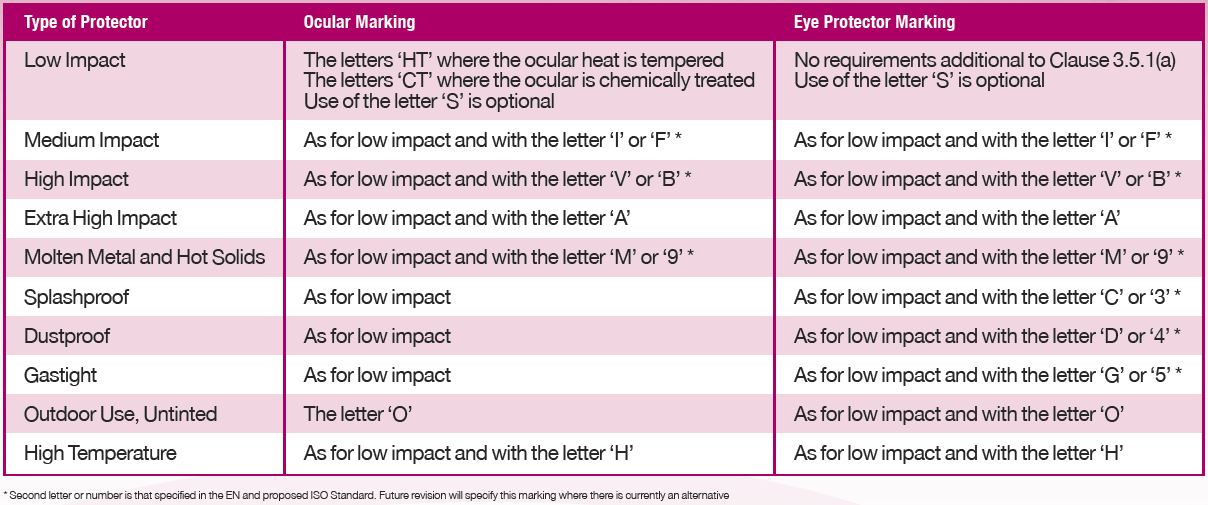 Figure 1.1
Hazard

Task

PPE

Impact

: flying or falling objects, fragments or particles, including sparks, sand, dirt and large chips.

Chipping

 

Grinding

Drilling

Sawing

Chiselling

Sanding

Riveting

Machining

Spalling

Hammering

Managing a strap under tension

Using power tools or nail guns

Landscaping

Wire handling

Brick cutting

Stone dressing

Woodworking

Metalworking

In reality, safety glasses are the minimum. Preferably, this will have side shields to reduce the risk of foreign objects going around the lenses.On the other hand, safety goggles are more effective at protecting against hazards from going under or around the edges due to the seal.

 

Of course, the impact rating of the lenses should be fit for the task.

Lastly, face shields are recommended for explosive power tools, including nail guns.

Heat

: anything emitting heat at high temperatures including molten metal and sparks.

Welding

 

Pouring

Casting

Hot dipping

Operating furnaces

Naturally, safety glasses/goggles with lenses fit for high temperatures.

 

When working with molten metal, safety goggles and face shields are vital to reduce the risk of splash injuries.

Chemicals

:  splashes, sprays, mists, vapours and fumes

Acid and chemical handling

 

Degreasing

Plating

Specifically, Safety goggles and/or face shields must be used.

 

Whereas safety glasses are NOT adequate protection against chemical hazards.

Dust

Woodworking

 

Buffing

Generally dusty conditions

In particular, safety goggles are the only PPE which provide adequate protection against harmful dust and airborne particles as they form a protective seal around the eyes.

Radiation

: intense concentrations of heat, infrared, ultraviolet and reflected light radiation.

Welding

 

Soldering

Working with lasers

Torch-cutting

Brazing

Outdoor work (UV from the sun)

Generally, filter lenses in protective eyewear should be fit for the maximum intensity of radiation the worker could potentially be exposed to in the task.

 

Also, welding helmets should always be used.

Protective eyewear with a UV protection rating should be used when working outdoors.
Sourced from information contained in the US Eye and Face Protection e-Tool and Better Health Victoria's Eye Safety at Work.
The difference between glasses, goggles and face shields:
Markedly, safety glasses allow air in and around the eye area. Whereas eye protection goggles fit tight against the face, offering protection against dust and splashes. Correspondingly, face guard provides further protection and can also be worn over spectacles or goggles.
In determining suitable safety eyewear, by all means a risk assessment should be carried out by a qualified OHS professional to choose what suits your work environment.
In detail, Figure 2.0 gives some guidance on the selection of appropriate protective eyewear; whether a spectacle, goggle or face shield:
Figure 2.0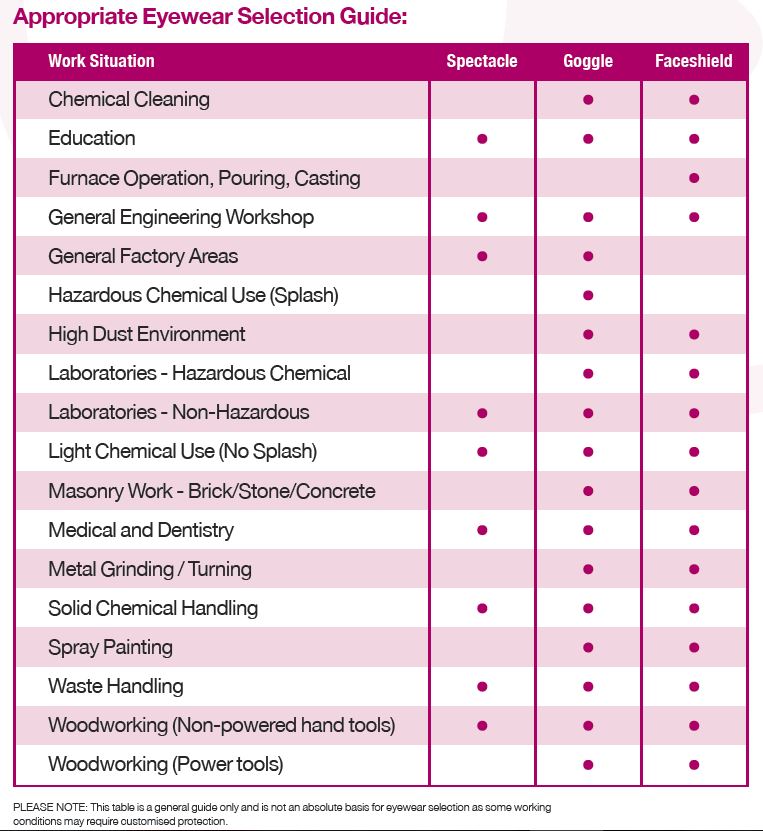 NOTE: Hence, ordinary eyewear such as prescription glasses, sunglasses or contact lenses do not offer appropriate eye protection. In fact, these can actually increase the severity of injuries in the event of an incident.
While impact resistance and the type of protection is critical, other considerations should be also included. For instance, the type of lense, the shape of your head and if anti-fog lenses for use in humid conditions are required (see more on these below).
UV Damage:
Furthermore, the sun's ultraviolet radiation can cause a range of conditions, from mild irritation to cataracts and cancer of the conjunctiva.
Naturally, all ProChoice glasses are safety sunglasses as well – even those with clear lenses – provide 99.9% UV protection so if you are using a ProChoice product, this is one eye hazard you do not need to worry about.
Choosing the Right Lense:
Similarly, the correct choice of lense finish plays an important part in the safety eyewear selection process. Consider the following features:
Amber Lenses: The characteristics of the filter show absorption of the blue light in the visible range. It also produces contrast enhancement in low light.
Clear Lenses: Provide protection against general indoor hazards.
Smoke Lenses: Filter harmful UV rays as well as visible light and reduces glare from artificial light.
Polarised Lenses: Filter glare and enhance contrast.
Mirror Lenses: The mirror coating reduces the amount of light through the lens by reflecting the glare.
Indoor / Outdoor Lenses: A slight mirror coating on a clear lense allows more visible light through and reduces glare from artificial light.
Choosing the right frame shape:
Finally, all ProChoice eye protection has a "frame shape". This is designed to match the user's face shape as well as provide the best possible fit, comfort and protection.
Oval shaped faces
have a forehead that's just slightly wider than their chin (like an upside down egg). Meanwhile, the jawline is somewhat rounded and the face shape is longer than it is wide. Suited Frame Shape: Square with rounded edges
Straight sides of the face
typify a square face, and they are nearly as wide as they are long. Above all, a strong jawline is defining feature of this face shape, with only a minimal curve. Suited Frame Shape: Oval shape
Round faces
are often associated with round plump cheeks but that isn't always the case. In this case, the cheekbones are the widest part of the face on round face shapes and the jaw will be curved. Much like a square face but with softer angles. Suited Frame Shape: Wide and angular
Heart-shaped faces
have a long and pointed jawline. Ultimately, the chin is the smallest point of a heart shaped face, much like an upside down triangle. Suited Frame Shape: Rounded edges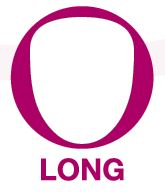 Long or rectangular face shapes
are characterised by a long length but also forehead, cheeks and jawline should all be pretty much the same width. Suited Frame Shape: Oversized, round or square frames
A diamond shaped face
has a narrow and pointed chin as well as high cheekbones. In contrast to heart shaped faces, the hairline is narrower on a diamond shaped face. Suited Frame Shape: Oval or frameless shapes
For more insight into this topic see the following related articles:
READ MORE ON PERSONAL PROTECTIVE EQUIPMENT
READ MORE ON PERSONAL PROTECTIVE EQUIPMENT