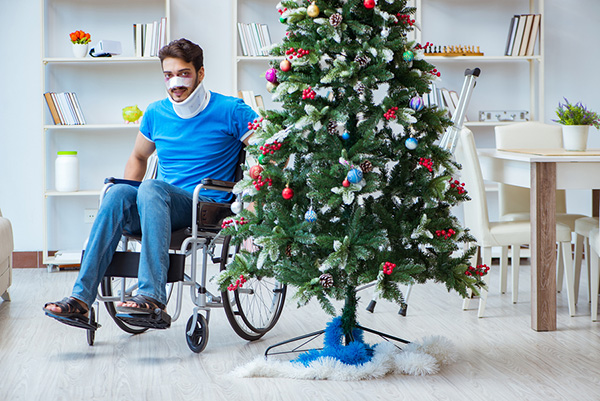 Whether it's re-doing the garden, transforming a living room or renovating the kitchen, many Australians love spending their summer holidays on a household project.
The festive season sees a surge in 'do-it-yourselfers' with home renovation retailers like Bunnings bracing for their busiest period – sales increased by 23 per cent in the Christmas quarter compared to the July to September quarter.
While this increase may be good for business, it could also prompt a spike in DIY-related injuries.
NSW Ambulance Inspector Craig Thomas said in the five months leading up to December 2017, paramedics had already attended approximately 100 cases of traumatic injury from tools, including electric saws, drills and angle grinders.
"Many injuries are caused by inattention, rushing to get a job done, not following safety instructions or the improper use of equipment," said Insp Thomas.
2017 data from the Australian Institute of Health and Welfare and Flinders University revealed that over 3,300 Australians aged 15 and over are hospitalised each year as a result of an injury from a DIY job.
According to the research, falling from a ladder is the most common cause of injury, closely followed by the use of powered hand tools.  More than half of all injuries from a fall resulted in a fracture, while the next most common injury was an open wound.
Simon Steiner of Hire a Hubby says often a DIY job seems far easier than it actually is.
"Even the smallest DIY job can be more than meets the eye and prove tricky without the right tools and knowledge, " he said.
"Home renovation shows have given many homeowners this unrealistic expectation and inflated confidence with DIY. If you're using power tools and you've never used one before, you've really got to take the time to teach yourself and understand what you're doing, and there's always a risk of injury."
Insp Thomas said sometimes it's best to leave the difficult jobs to skilled tradespeople.
"But if they must undertake the work, expert advice should be sought first, and the job carried out in the company of another," he said.
"Never use tools that are beyond your level of knowledge, skill or strength; keep your body, especially fingers, away from blades; and disconnect the power before changing blades."
When it comes to safe DIY this festive season, here are five important tips:
Ensure your ladder is placed securely and anchored by all legs equally
Don't use tools for work they are not designed for
Secure your work with clamps or a vice, freeing both hands to operate the tool
Disconnect tools when not using them, before servicing and cleaning them and when changing accessories such as blades, bits and cutters
Wear protective gear (PPE) for the task and beware that loose clothing or hair can become caught in moving parts
READ MORE ON PERSONAL PROTECTIVE EQUIPMENT
READ MORE ON PERSONAL PROTECTIVE EQUIPMENT