PPE
How facial hair impacts face masks and respiratory protection seals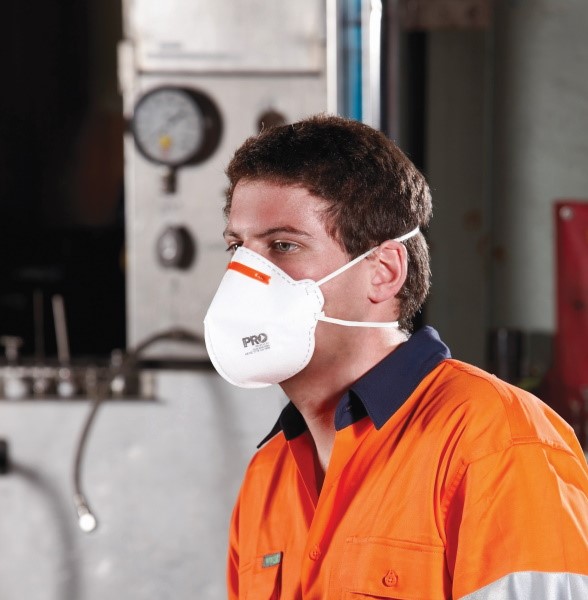 Respiratory Protective Equipment (RPE) is critical in preventing workers from breathing in hazardous substances on the job.
This is especially important in industries such as construction, mining or agriculture that have a high exposure to airborne contaminants which can lead to lung disease.
Commonly, RPE involves a well-fitting mask such as:
Re-usable half masks
Full face masks, including those used with breathing apparatus
Facial hair today, gone tomorrow
It's crucial that RPE is worn correctly in order to prevent exposure to dangerous contaminants.
As a vital part of respiratory protection, make sure seal between the mask and the wearer's face is apt. Despite this, facial hair can easily compromise that seal.
How much hair is too much?
To explain, 2015 UK research has shown that even 24 hours of stubble growth can begin to impact the quality of the seal and reduce protection.
"Protection could be significantly reduced where stubble was present, beginning within 24 hours from shaving, and generally worsening as facial hair grew," according to the research.
14 other studies over 20 years, showed that the presence of facial hair under the mask seal can cause 20 to 1000 times more leakage compared to clean-shaven workers.
Moreover, The International Society for Respiratory Protection recommends a clean-shaven policy and that zero facial hair in the area of the mask seal is the only way to ensure a good seal.
However, certain types of facial hair can impact the sealing area of protective respirators more than others. Beards, sideburns and large moustaches can all create gaps. Airborne contaminants are inhaled possibly because of this.

Which facial hair is safer?
So what kind of facial hair is okay if you are required to use RPE at work?
Ideally, clean shaven is best but a seal may be possible with some types of facial hair, for example a soul patch or small moustaches that don't come close to the seal of the mask.
To illustrate, see Pro Safety Gear's facial hair guide for RPE below: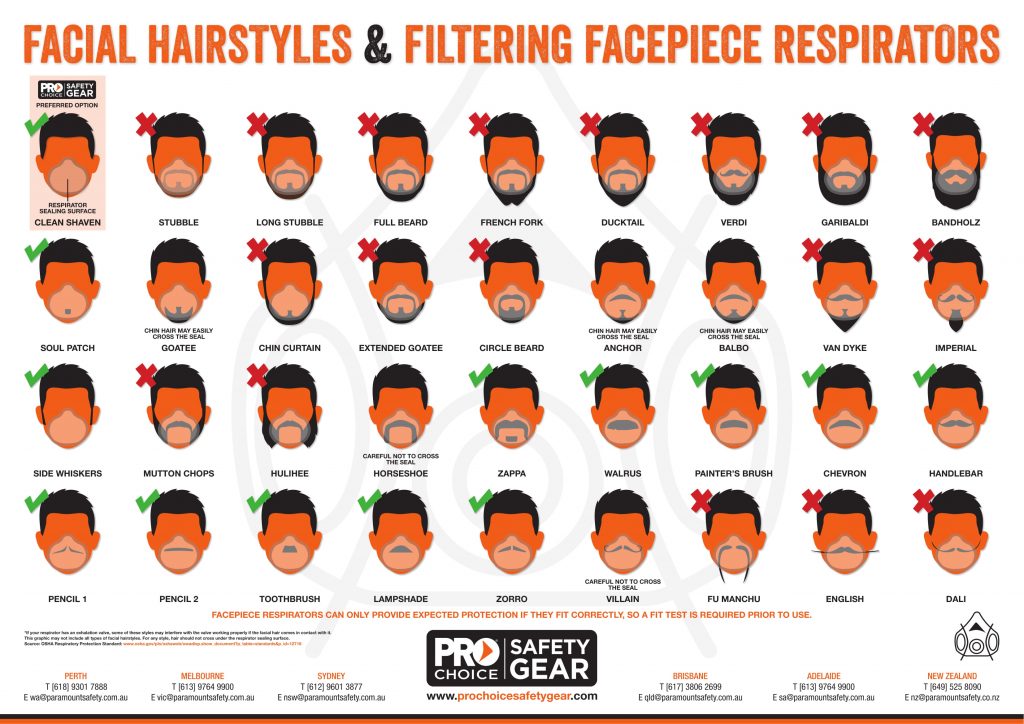 Fit and seal testing
Regardless of what facial hair an employee does or doesn't have, all RPE must be fit tested essentially before use.
The Australian Standard AS/NZS 1715:2009 Selection, use and maintenance of respiratory protective equipment describes two types of respirator fit tests—qualitative and quantitative—that can be used to determine an adequate match between the face piece of the RPE and face of the wearer.
Worksafe Queensland describes the two types of fit testing as:
Qualitative—a pass/fail test that relies on the wearer's ability to taste or smell a test agent. This type of test can be used on half-face respirators.
Quantitative—uses specialised equipment to measure how much air leaks into the respirator. This type of test can be used on half-face and full-face respirators.
The standard states that one of the fit tests should be done before the protective respirator is used and then at least once a year, or when there is a change that could affect the seal.
The Pro Choice Safety Gear silicone Half Mask Respirator with PressToCheck Filters offers an easy negative pressure fit check system. However it does not replace a qualitative or quantitative fit test in accordance with AS/NZS 1715.
Furthermore, the standard also emphasises the importance of comfort. It states that a good respirator should "provide a tight seal without being uncomfortable and cautions against overtightening the respirator to achieve a tight seal". Lest "the wearer may be unable to tolerate using the RPE for any length of time".
Respiratory Protection Training Guide
Need more information on RPE? Obtain detailed insights into selecting and maintaining appropriate RPE that adheres to standards, fits correctly and is fit for purpose in Pro Choice Safety Gear's Respiratory Protection Training Guide.