PPE
PPE Failure – Could You Be at Risk?
Avoiding workplace disaster and PPE Failure may come down to simple things, like correct fit, use, care & storage. Earlier this month a Queensland man was flown to the Royal Brisbane hospital in a critical condition. He suffered severe facial injuries at the hands of an angle grinder. The man, in his 30's was sharpening mower blades at Benarkin State School Oval on the Sunshine Coast. Unfortunately, the blade broke off and spun into his face, shattering bones and injuring his eye. Albeit lucky, had the man been wearing appropriate PPE, the extent of his injuries could have been greatly reduced.
If you are an employer, you have a legal duty of care to your workers to provide a safe work environment. Part of this obligation is the supply of adequate PPE that meets the minimum standards of protection for any given task. PPE is a worker's last line of defence against workplace hazards. This comes when all other controls set up to minimise risk and protect the worker have been expended.
Many workplace injuries can be prevented simply by ensuring your workers are wearing the right protective gear.
But what happens if a worker is wearing PPE and that PPE fails?
Melissa Kirby, Legal Director and Strategist at Sharpe & Abel gives her warning.
"Personal protective equipment is one of a number of tools that employers can use in reducing risks to their employees. But not all PPE is made the same: it is important to check how robust the PPE is and whether it is the right kind of PPE for the risk that your employee is exposed to."
"As general advice, employers should look for PPE that is not only compliant, but independently tested and certified by a third party", she recommends. This is "so there is no conflict of interest in the safety ratings that employers see. That way, there can be no doubt about the robustness and quality of PPE."
When PPE fails and injury results, you as an employer could find yourself in breach of your legal duty of care. Especially if there was any negligence in your selection of PPE. For example companies bias to cheaper, non-compliant products over certified, standards approved PPE. Even if legal action is avoided, injuries resulting from PPE failure can spark industrial relations disputes. It also significantly inflates insurance premiums and severely damage their company's reputation.
But why would PPE fail? Well, there are a number of reasons.
Incorrectly worn PPE that is not fitted or used correctly
Workers need to be sufficiently trained in how to fit and wear protective gear. The burden is on the employer to provide workers with instructions and also to ensure workers follow these instructions. The value of PPE is greatly reduced if it is worn incorrectly or if it does not fit right. Fitting guides and instructions for all ProChoice PPE can be found on product packaging. Also found in relevant sections of the ProChoice Safety Gear Guide.
PPE that is not cared for or stored correctly
Wear PPE accordingly. Most PPE comes with proper care, cleaning and storage instructions. PPE that is not correctly maintained can become damaged and useless. For example protective headwear is often thrown in the back of a ute or left in the heat in a car. Such actions affect the benefit of the protective headwear, and death or serious injury can occur as a result. PPE should be cared for, cleaned and stored according to the manufacturers instructions, with regular checks for damage. If damage occurs or the product exceeds it's lifespan, the product should be replaced immediately.
Incompatible PPE – Items of PPE which (worn simultaneously) undermine each other's effectiveness
Sometimes, wearing incompatible pieces of PPE together can greatly reduce the protection of both pieces of PPE. For example, if you wear protective ear muffs and safety glasses, the arms of the safety glasses can interfere with the seal of the ear muffs. Thus, such mismatch weakens hearing protection. Rather than using protective ear muffs, a Class 5 earplug would be more compatible. Likewise, wearing safety goggles over a face mask or respirator can reduce the benefit of both.
Simultaneous use of products need to be designed with each other in mind. See the ProChoice FilterSpec Pro Google-Mask Combo as an example. This is a compatibly designed breathing and eye protection. For more advice on choosing compatible PPE, talk to your supplier. You can also Contact ProChoice Safety Gear to speak to one of our PPE experts.
Inappropriate PPE – Wearing PPE that is not fit for purpose
The PPE clothing assigned to workers must be suitable for the nature of the work and any hazard associated with the work. A worker at a global manufacturing company recently sued his employer of 34 years for failure to provide him with the correct type of PPE resulting in personal injury. The worker was instructed to repair a hydraulic press. While using a jack to open it, his hands slipped due to the amount of oil on the gear. This caused him to fall and fracture his wrist. The gloves he was wearing were later found to be unsafe for use with oily materials as they did not have enough grip. As a result, the court found the employer liable. Talk to your supplier or contact a ProChoice representative for advice on choosing the right PPE for the hazard at hand.
Uncertified PPE – Untested, Unproven, Unreliable
Standards Australia are a not-for-profit organisation. They are charged by the government with meeting Australia's need for modern and internationally aligned safety standards. Their experts decide a set of conditions that products need to meet. This ensures that they are safe, reliable, and perform as intended. In some states, many of these standards are mandatory. While in others they are voluntary but highly endorsed. Where a standard is required, there are penalties for supplying products that do not comply with them. In WA, it is mandatory that all protective eyewear comply with AS/NZS 1337.1:2010 or AS/NZ1338:1992.
If you are an OHS officer or the person charged with purchasing PPE for your work site, you are probably already aware of the relevant standards for your industry. However what you may not be aware of is that many PPE manufacturers do not comply with them.
"Products that have not been independently certified to Australian Standards may not have been rigorously tested against potential dangers". This is according to Richard Donarski, Team Leader of Health & Safety Product Services at SAI Global.
Pro Choice Standards
Had the Queensland man mentioned above been wearing a ProChoice Browguard, his injuries from the blade may have been avoided. The Assembled Browguard with Extra High Impact Shade 5 Visor is certified. It is also capable of withstanding impact from objects moving up to 190m per second!
SAI Global inspect the materials and production process of ProChoice. Products are batch tested for quality control. The Five Ticks 'Certified Product' Standards Mark™ are displayed on ProChoice safety products. This comforts both workers and employers responsible for their safety. It assures them that the gear they choose has been thoroughly tested. Moreover, it's endorsed in line with both recommended and requisite Safety Standards.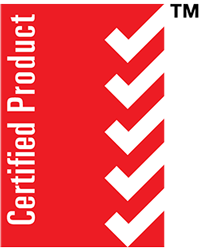 So to recap, how do you avoid injury due to PPE Failure?
Ensure workers receive adequate training on the correct use, fit, care and storage of their PPE.
Ensure you provide workers with PPE that is both compatible and fit for purpose.
Only buy products that have been independently tested and certified safe. Waiting for an accident to put PPE to the test compromises the safety of your workers. In real life when PPE fails, people get hurt. Independent testing catches such problems during the development phases. Hence, you can have the confidence that the PPE actually provides the protection that it promises on the packaging!
Certification can be confirmed by looking for the below Five Ticks logo or relevant marking on the product and / or it's packaging.