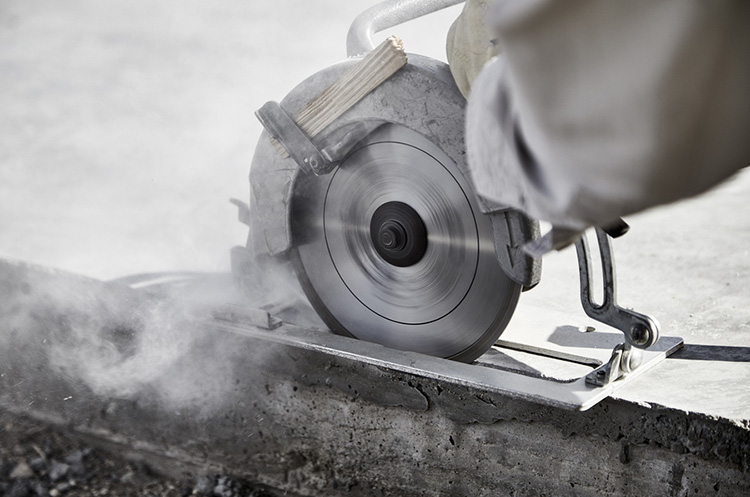 Workers who have cut engineered stone are being urged by to seek a health assessment after a steep rise in silicosis cases.
In September 2018 it was announced that 35 silicosis claims have been lodged with WorkCover Queensland. Six of those claimants were terminally ill.
According to an article in the ABC, this may be only he "tip of the iceberg" and "Doctors believe that silicosis is Australia's worst occupational lung disease crisis since the peak of the asbestos disaster."
What is Silicosis
Silicosis is an incurable disease causing scarring of the lung tissue. A build-up of silica dust in the lung air sacs leads to shortness of breath, fever and pain.
Silica is contained in concrete, masonry, sandstone, rock, paint and other abrasives. Silica dust is released by cutting, drilling or blasting the material.
The silicosis problem
Cheaply manufactured stone favoured by the stonemasonry industry to build kitchens and bathrooms can contain up to 90 per cent silica.
Many workplaces have been using dry-cutting techniques which produce a large amount of silica dust. Dry-cutting is now illegal in Queensland.
Silicosis traditionally affects construction workers, tunnel workers, farmers, miners and engineers. It usually takes decades of breathing in the dust to develop silicosis however short-term exposure at high levels can also cause silicosis.
There are three different levels of silicosis presenting a range of symptoms. Often, sufferers are symptomless for years.
Chronic — occurs after at least ten years of exposure. Is slow to develop
Accelerated — results from higher exposure levels over five to 10 years
Acute — develops from weeks or months of very high exposure
Coughing is an early symptom of silicosis and develops over time with silica exposure. In acute silicosis, sufferers may experience sudden fever and sharp chest pain along with shortness of breath.
Safely working with silica:
Using dust collection and water suppression attachments when using any hand tools to cut stone is highly recommended.
Dry-cutting engineered stone is illegal in Queensland due to the increased dust particulates and proven health risk. As at October 2018, dry cutting is not banned in other states, however the government is reviewing safety standards and laws – see below.
If respirators are worn in addition to these controls, dust particulates can be reduced by up to 98 per cent.
Respirators:
If using a conventional respirator then either a particulate respirator must be used (P1, P2 or P3 filtering respirator) or an air supplied respirator, according to Pro Safety Gear's, Product Development Manager, Brad Rodgers.
"Respirator filters for particles are graded in terms of their performance in removing particles from the air to be inhaled. P1 filters have the lowest performance, and P3 filters the highest," Rodgers said.
In choosing a suitable respirator for working with silica containing products wearers should consider:
required minimum protection factor (RMPF: Observed Dust Concentration / Workplace Exposure Standard)
class of respiratory protection.
See more on appropriate PPE for silica exposure here.
What is being done to protect workers:
In early October 2018, Federal Health Minister Greg Hunt asked state workplace regulators to investigate risks of silica exposure.
He also raised the issue formally at the October 2018 Council of Australian Government (COAG) meeting, where states agreed in principal that a stronger silicosis education and awareness campaign is needed, along with a national dust disease register to track the health of workers.
"We have committed to immediately write to Safe Work Australia to ensure that standards are put in place and that there is a review of existing state-based laws and standards," Cr Hunt told the ABC.
Workers who have been exposed to silica more than ten years ago, or have had regular or high exposure are urged to visit their doctors as soon as possible for appropriate testing.
Safe Work Australia recommends annual health testing for anyone working with silica.
READ MORE ON RESPIRATORY PROTECTIVE EQUIPMENT
READ MORE ON RESPIRATORY PROTECTIVE EQUIPMENT