Safety Gloves
Chemical Resistant Gloves: Ensuring Appropriate Protection
For Occupational Health and Safety (OHS) officers, protecting workers' hands from chemical hazards can be a complex challenge due to the variety of chemicals
 and gloves with different protective properties.
ProChoice Safety Gear product development manager, Brad Rodgers says that hand protection from chemicals requires a detailed risk assessment of the chemical concentration and exposure time along with knowing the age of the gloves, their history, testing them before use and ensuring they are testedo Australian/European Standards (see below), as well as being a good fit.
 "Chemical concentration will have a huge influence on the breakthrough time [how long it takes for the chemical to breach the glove] while exposure time must also be carefully managed," Rodgers said, adding that other factors influencing glove choice include the temperature of the chemical or material being worked on, along with the frequency of the glove's use.
He suggested that specific advice should not be relied upon unless it comes from the manufacturer of the chemical in question.
We have a generic product specification sheet that outlines the gloves materials, applications and standards information but for use with any specific chemicals the user should consult the specific chemical material safety data sheet (MSDS) for the correct PPE to use.
"Knowing exactly what is in the chemical and the concentration levels plays a big part in the protection required," he said.
"MSDS' are available from the outlet that sold them the chemical or you can usually download them from the manufacturer's website."
Material and Fit: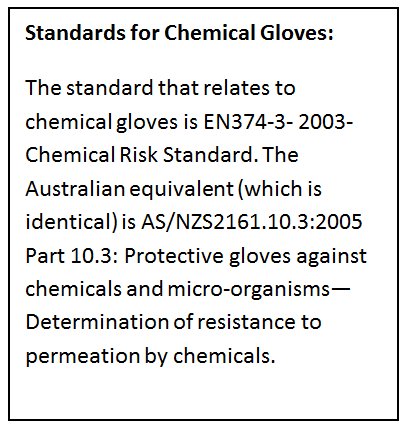 Rodgers stated that matching the material of gloves – whether nitrile, PVC, latex or neoprene (see more below) – with the above factors is an essential part of the PPE identification process, with thicker gloves not necessarily offering better protection.
"Different glove materials react in different ways to chemicals, so thickness won't play a big part, however if it's a combination of risks – for example chemical and abrasion, then glove thickness could play an important role."
However he cautioned that if materials handling is also involved a thicker glove can reduce the feeling and grip, potentially increasing risk.
He emphasised the need for a detailed risk assessment and stated that fit and comfort of a safety glove is critical.
"It not only increases the likelihood of the glove being worn, but also provides better dexterity and feel. In the case of chemicals, it can reduce the likelihood of the glove slipping or the hand pulling out of the glove and exposing the user to hazards," he said.
Rodgers added that matching the length of the gloves to the application is also essential.
"Some chemical resistant gloves can be wrist length but most are above the wrist and some extend right up to the shoulder," he said, adding that submerging the hand into a chemical requires a longer glove to afford the appropriate protection. 
Glove Storage and Testing
Depending on how they are stored, the chemical resistance of gloves may degrade over time, according to Rodgers who added that latex, being a natural material, is most susceptible to breakdown.
He said gloves should always be stored in a cool dry location and out of direct sunlight to maximise the lifespan and suggested that before use, gloves – whether new or used – should be tested before working with or on the hazard in question to determine if there has been any degradation and to understand the gloves limits and breakthrough time.
"Ensure the gloves are watertight first and foremost. Don't expect every pair will be." he said.
"While manufacturing process are very good, once the glove has been shipped and handled by multiple people you can't be sure that it wasn't damaged. Even if there is no visible damage, it may contain a pin hole."
Chemical Resistant Glove Materials:
NITRILE
Nitrile rubber offers excellent physical-hazard resistance to punctures, cuts, snags and abrasion. Nitrile rubber has considerable resistance to oils, fuels, and certain organic solvents.
Applications: Chemical Handling, Auto Assembly, Petro-Chemical, Food Processing
Suitable For: Oils, greases, petroleum products and some acids and caustics.
LATEX
Natural rubber (latex) has a very high elasticity compared to other glove materials, good cut, puncture and tear resistance, and outstanding grip and temperature resistance. It withstands water, alcohols, and some ketones, but has poor chemical resistance against most hydrocarbon and organic solvents. It can cause allergic reactions in some people.
Applications: Janitorial, Food Processing, General Maintenance
Suitable For: Ketones and mild acids.
PVC
Polyvinyl Chloride (PVC) is an ideal alternative for those with latex allergies, PVC chemical-resistant gloves offer good abrasion resistance, but may be susceptible to punctures, cuts, and snags. PVC is effective against water and most aqueous solutions, detergents, and diluted bases and acids, but has limited chemical resistance to organic solvents. PVC is one of the more common coatings for coated work gloves.
Applications: General Maintenance, Fisheries, Construction, Janitorial and Gardening
Suitable For: Most acids, fats and petroleum hydrocarbons.
NEOPRENE
Neoprene is exceptionally flexible and has good abrasion and cut resistance, while resisting the effects of aging, sunlight, ozone, oxidation and weather.
Applications: Automotive, Degreasing, Mechanical and Janitorial
Suitable For: Some acids and caustics.
READ MORE ON SAFETY GLOVES
READ MORE ON SAFETY GLOVES