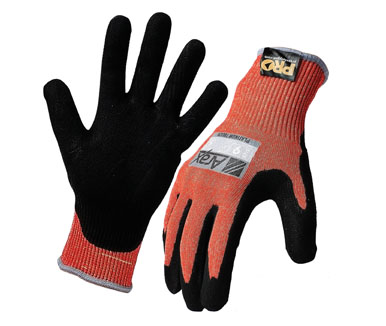 With a 2008 Safe Work Australia report finding cuts and open wounds are the most common workplace hand injury requiring a trip to hospital, and account for 35 per cent of workers' compensation claims for hand and wrist injuries, the prevention of this injury is of critical importance.
With personal protective equipment (PPE) being the last line of defence on the hierarchy of control, wearing the appropriate safety gloves fit for a specific application is essential and requires a risk assessment to determine the appropriate glove.
However, having determined the required cut protection and features (dexterity, feeling, wet use, oily use etc) of safety gloves, actually understanding the levels of protection it offers can be an exercise in frustration due to a lack of Australian regulation and multiple protection scales and standards that are not comparable or interchangeable. There are two main cut protection standards in safety gloves: European (EN 388 – adopted  by Standards Australia as AS/NZS 2161.3 and identified on packaging with a CE mark) and American (ANSI/ISEA 105:2011).
Both standards use a rating of cut protection on a scale: 1-5 for EN 388 and 0-5 for ANSI. However equivalent ratings on the two – especially at 4 and 5 – are not interchangeable with the American standard offering a greater level of cut protection than its European counterpart due to limitations in the European testing method.
Given these limitations, ProChoice has chosen to voluntarily and independently test their Arax® range to American ANSI/ISEA standards – with the Arax® Platinum glove achieving a Rating 5 on both tests. On such products both the EN 388 rating and the ANSI rating is shown – something currently unique in the Australian market.
Further complicating cut protection comparison between products and brands is the lack of cut protection standards regulation in Australia. Whereas other PPE such as ear muffs and protective eyewear must be independently audited by a NATA-accredited testing body such as SAI Global – with its compliance displayed on packaging with the "Five Ticks" logo, this is not a requirement of cut resistant gloves in Australia where compliance is largely self regulated.
Resultantly, there is no telling the independence or recency of accreditations leading to the use of the CE Mark and products are being sold that may have been self tested by manufacturers or distributors and carry unsubstantiated self-declarations of cut resistance and hand protection. ProChoice Safety Gear invests in independent NATA-accredited certification of many of their safety gloves, implements regular batch testing to ensure continued compliance and also regularly has their manufacturing processes independently audited.
Implementing these additional quality control measures is part of ProChoice Safety Gear's greater commitment to protective workwear and safety equipment beyond requirements. That includes premium products, strict testing and certification and employer and employee education.
Read the Pro Choice Hand Protection Safety Guide for more info.
Contact ProChoice to arrange a risk assessment or toolbox talk on your work site.
READ MORE ON SAFETY GLOVES
READ MORE ON SAFETY GLOVES