Safety Gloves
Synthetic Leather Work Gloves – Why You Should Make the Switch this Winter
Leather gloves have been around for donkeys years (and might even have been made from them at one stage).
They're soft, supple, and breathable, yet at the same time strong, thick & hard wearing. It is these qualities and more that have helped make our Riggamate range of Cowhide and Pigskin leather gloves a workplace favourite in recent years.
But for every glove, there is a season, and for leather work gloves, winter is not it. If not properly cared for, colder weather and increased moisture in the air can turn leather gloves rigid, cold and damp. Cue synthetic leather!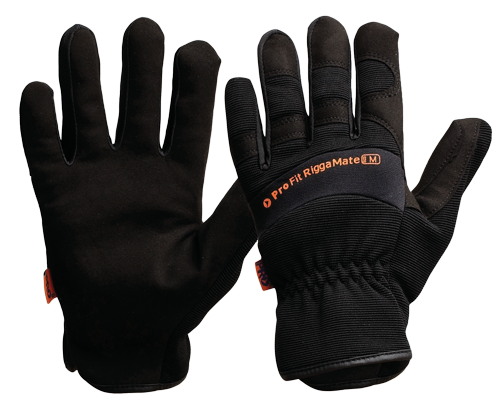 Your Best Pick for Wet, Wintery Conditions
Synthetic leather gloves excel in cold, wet weather. They are lighter, thinner, and can dry very quickly. These features make for added comfort and flexibility. Also, it doesn't compromise on necessary qualities like abrasion and tear resistance. Multi-layer construction means that synthetic leather gloves also boast lots of cool extra features over their natural leather counterparts.
Fit for Task Features
First, multiple materials can be incorporated into the glove's design that allow for unique features to be added. For example, flexible neoprene knuckle panels, magnetic nail holders, anti vibration padded palms, or impact absorbing back of hand protection. Others include non slip silicone dotted palms, velcro fasteners, & fingerless features for small parts handling, to name a few.

Lots of Styles and Colours
Synthetic gloves also come in a variety of styles and colours, including Hi Vis. It helps keep workers' hands where coworkers operating dangerous plant machinery can see them.
Breathable
Strategically placed ventilation panels allow airflow so your hands can breath, keeping you cool and comfortable.
Oil and Grease Repellent
If it's a dirty job your doing, synthetic is the glove you should be doing it with. The smooth grain of natural leather gloves holds grease making them slippy and difficult to work with. Synthetic gloves on the other hand are treated with a special coating that repels oil and grease. This along with the non-slip grip helps to maximise precision and protection.
Machine Washable
Synthetic leather gloves can be washed without affecting the shape, fit or integrity of the glove.
Stable Pricing
Synthetic leather gloves have the added advantage of price stability. Leather, being a natural product, is more prone to price fluctuations than synthetic alternatives which are relatively stable.
Indeed in many situations, the choice between leather vs synthetic work gloves comes down to a matter of personal preference. For the leather purists, our 3M Thinsulate lined leather rigger will keep your hands warm on those cold, wintery work days. However, if you're working in the wet, synthetic is your best bet.
READ MORE ON SAFETY GLOVES
READ MORE ON SAFETY GLOVES