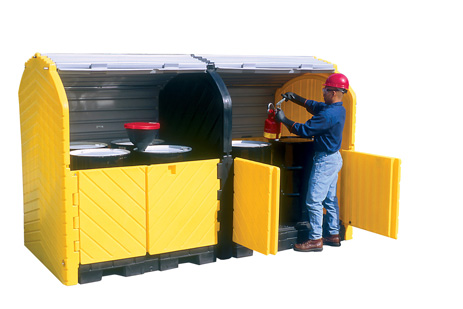 Wherever chemicals or liquids other than water are being stored and handled in the workplace, appropriate spill containment systems must be used to protect the environment.
A common spill control used is bunding which is "an embankment or wall of brick, stone, concrete or other impervious material, which forms the perimeter and floor of a compound and provides a barrier to retain liquid [in the event of a spill from its storage container]," according to a 2016-updated document from the South Australian (SA) Environmental Protection Agency (EPA).
Determining the necessary spill containment measures requires a professional risk assessment before using the hierarchy of control to manage spill risks.
Training staff in spill prevention and response is also critical. This includes ensuring spill response equipment is in good condition and that staff know where it is and how to use it.
Bunding materials:
Bund systems and materials must be capable of preventing the liquids they are containing from spilling or leaking into the surrounding environment – whether chemical liquids, non-chemical or flammable.
Bunding materials should be built of materials impervious to the liquid they are protecting against, and be strong enough to ensure they won't burst or leak.
Bunding which is protecting against flammable liquids should be resistant to fire. Earthen bunds or un-reinforced materials are not recommended.
Bunding Capacity Requirements
According to the SA EP, the net capacity of a bunded area should be at least 120 per cent of the net capacity of the largest tank it is protecting against. Where flammable materials are being stored, the net capacity should be 133 per cent.
"If an automatic fire sprinkler system is installed in or over any bunded tank or drum storage compound, the capacity of the bund should be increased either by a volume equal to the output from the sprinkler system for a period of at least 20 minutes, or to 133 per cent of the capacity of the largest tank, whichever is greater," the EPA guide states.
If the liquids are in multiple drums or other small containers, the bunded area should be able to contain at least 25 per cent of the total volume of the stored products.
Bunding Systems:
There are a number of different types of bunding and spill containment systems, both temporary and permanent. The most common types are:
Drum spill containment and drum racks: designed for use when liquids are stored in drums. Both indoor and outdoor options are available.
Intermediate bulk container (IBC): are used for bunding bulk containers of around 1000 litres.
Spill decks and bladder systems: These versatile systems capture small spills in the spill deck sump, while larger leaks are contained in an expanding containment bladder. The modular systems can be joined together to enable the creation of a bunding solution specific to your requirements.
Bunded Pallets: A temporary spill containment solution and potentially used for transporting liquids. Pallets should be stored in a level area and covered so they do not fill with rainwater.
Drain seals and spill berms: where there is the risk of liquids entering drains, using drain seals and spill berms will help ensure spill containment.
Bunding Maintenance:
A routine inspection and maintenance program should be carried out on all spill containment and bunding equipment. The program should be tailored to suit the specific installation.
Some of the common problems described by the EPA include:
The bund integrity or chemical resistant linings have been damaged.
Stormwater has been allowed to accumulate in bunds.
Previous spills have accumulated in the bund, reducing its effective volume.
Bunds have been used as rubbish storage.
The flexible joints between concreted sections have shrunk resulting in gaps in the bund.
Bunds have gaps or cracks in them.
Porous besser blocks have been used to build the bund.
Pipework has been installed through the bund without provision to isolate it from pipework movement.
The bund has been installed with stormwater drainage holes (or valves) in the walls.
An earthing system has been installed through the bund walls.
Pipes, pipe fittings such as valves or flanges, or hoses have been installed on top of or outside bund walls.
READ MORE ON SPILL CONTAINMENT
READ MORE ON SPILL CONTAINMENT