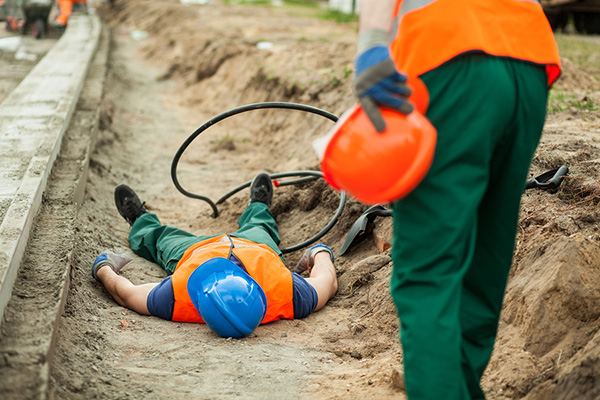 The exact procedures to follow in the event of a workplace accident or near miss vary slightly from state to state. This article outlines the procedure NSW and provides details on specific states by way of links at the bottom of this article. 
A workplace injury can have a significant impact on your business. This can lead to lost productivity and income, reduced morale, significant fines and the emotional stress.
Yet less than 60 per cent of small business owners know their responsibilities in the event of a workplace injury, according to the Employsure Workplace Safety Index.
And employers know they need to improve. They acknowledge that they lack understanding of their "obligations should an employee get injured at work", according to the report which was based on August 2017 Galaxy Research.
Workers compensation and other legal requirement:
It is a legal requirement to put measures in place to prevent a workplace accident. However in case an incident occurs it is also a legal requirement that all employers hold workers compensation insurance for their employees, according to a State Insurance Regulatory Authority (SIRA) guide.
As well as having workers compensation insurance, the guide also states you must:
display the If you get injured at work poster
have a documented return to work program
maintain a record of work related injuries
notify your insurer of all workplace injuries within 48 hours
participate in the development of the worker's injury management plan
provide suitable work (as far as reasonably practicable) when a worker is able to return to work, either on a full-time or part-time basis
provide suitable work that is (as far as reasonably practicable) the same as or equivalent to the work being performed at the time of the injury
First aid and incident reporting
If an incident does occur the first step should be to provide first aid to the worker where appropriate and seek medical treatment where required.
If an incident results in a serious injury, illness or death – or could have done – then it must be immediately reported to your state safety body. In NSW that is Worksafe and the maximum penalty for not notifying incidents is $50,000 for a body corporate and $10,000 for an individual.
After an injury, you then have 48 hours to report the injury to your workers compensation insurer.
Support the worker
Your worker's primary role is to focus on recovery and aim to stay at work in some capacity, or return to work as soon as possible.
Helping your worker to recover at work may reduce the financial impact on your business. First, it leads to a worker's return to full duties more quickly. Second, it will help retain their valued skills. Lastly, it will improve workplace morale by demonstrating to all workers that they are valued.
Supporting your worker throughout the injury and recovery process will have a positive impact. You should also seek to:
Discourage blame
Keep in touch with the worker and ask co-workers to keep in touch
Address and resolve any outstanding issues or conflicts
Engaging with their doctor:
Meeting with your worker and their doctor can assist in the overall management of your worker's injury. It will enable you to demonstrate your commitment to their recovery and discuss normal duties and availability of other duties.
Injured workers must choose their own doctor if they are away from work for seven consecutive days.
Once the worker signs a certificate of capacity – the main way in which the doctor communicates with the worker's support team – you are entitled to ask questions which may include:
what can the worker do?
how long do you expect the worker to take to return to their normal duties?
can the worker drive or use public transport?
what can I do to help the worker recover at work?
how can I best communicate with you about the worker's progress?
Arranging a case conference:
A case conference is a meeting that can include the nominated treating doctor, insurer, the worker and employer. It can also include the workplace rehabilitation provider (where applicable).
In essence, they can be used to set goals, ensure roles and responsibilities are understood. Parties can also agree on timeframes to recover at/return to work. You should encourage your worker to participate.
Identifying duties and tailored planning
After an injury, the goal should be for a worker to return to the same job as at the time of injury. However, sometimes this may not be possible.
In this case, focus on providing the worker with the most direct path back to work. That could mean providing assistance for them to perform some or all of their normal duties. It can also mean making other arrangements for a different job, different hours, different workplace, or a combination of these.
Ultimately, a recover at work plan should focus on what your worker can do rather than what they cannot. The planning process should involve the worker. Monitoring and updating the plan as the worker's capacity for work increases is necessary.
For more state and territory-specific information on reporting workplace incidents and managing injuries, see the following list:
READ MORE ON WORKERS COMPENSATION