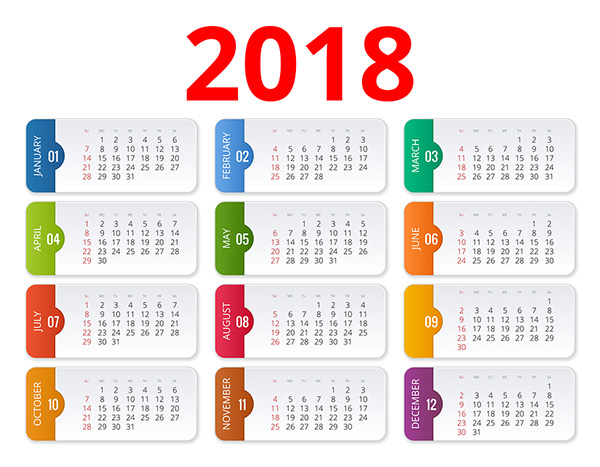 A comprehensive list of Australian workplace health and safety (WHS) events, awards and related campaigns in 2018.
If there is an event or campaign not covered below that is relevant to OHS in Australia, please comment with the details at the end of this article and we'll take a look.
Safetyscape Convention 2018 | Safety Institute of Australia (SIA)
Melbourne Convention Centre | 21-25 May 2018
After cutting ties with conference and exhibition producer, Informa in early 2017, the Safety Institute of Australia (SIA) have launched a new safety event, with Safety in Action no longer related to the SIA.
The SIA's 2018 inaugural Safetyscape Convention is described as "Victoria's largest gathering of Health & Safety Industry professionals across a week long program of events, workshops, forums, seminars and conferences."
SIA's own two-day national safety conference and safety show (see below) will take place 22-23 May as part of the week-long convention which will also enable participating organisations the opportunity to deliver their own health and safety related events.
(Safetyscape Convention) National Health & Safety Conference: In Practice
Melbourne Convention Centre | 23-24 May 2018
Held as part of the SIA's inaugural 2018 Safetyscape Convention and conjointly with the Workplace Health and Safety Show, the 2018 Health and Safety Conference will explore the theme of "WHS in practice".
Bringing together stakeholders across the health and safety profession the event will discuss WHS challenges, ideas, innovation, research and leadership.
It features partner events, a conference dinner and CEO breakfast.
Early-bird tickets are on sale until February 9 2018.
https://www.safetyscape.com.au/events/sia-national-health-safety-conference-practice
(Safetyscape Convention) Workplace Health & Safety Show
Melbourne Convention Centre | 23-24 May 2018
The official trade show of SIA's Safetyscape Convention, the Workplace Health & Safety Show will be a dedicated two-day exhibition showcasing WHS technology, services and products.
The show will "provide suppliers and manufactures with the opportunity to connect with a wide range of decisions makers/officials from companies all over Australia".
https://www.safetyscape.com.au/events/workplace-health-safety-show
SAFETYconnect
Brisbane Convention Centre | 29-30 August 2018
A dual-stream event run by the National Safety Council of Australia (NSCA), SAFETYconnect is both a conference and exhibition featuring over 40 vendors.
Catering for WHS and business professionals from a broad range of industry sectors, including transport, construction, education, infrastructure, manufacturing, mining, utilities and government, the event is currently accepting submissions to present case study scenarios, technology sessions, panel discussions, keynotes and plenary sessions.
The event is supported by Westwick Farrow Media – publisher of Safety Solutions and NSCA's National Safety Magazine.
The 2018 program will be available in February 2018.
Sydney Safety First Conference & Expo
Sydney Showground | 9-11 May 2018
The Safety First Conference & Expo is co-located with National Manufacturing Week (NMW) and focused on the specific safety needs of heavy industries.
2018 topics include:
Understanding and interpreting the latest safety standards including ISO 45001
Creating a holistic approach to fatigue management
Safety management and safety training
At time of writing they are looking for speakers in the industrial and heavy industries sectors to discuss themes including, OHS, safety leadership and management. Submissions close 4 January 2018.
Safety in Action
Sydney Showground | 9-10 October 2018
No longer run by the SIA, Safety in Action is now managed exclusively by conference and exhibition producer, Informa.
The event will be held in Sydney in 2018 and "enables OHS professionals to network, explore industry trends and developments and source the latest products and services".
In 2017 the conference was conjointly held with a Workplace Wellness and Return To Work conferences. At time of writing 2018 program was still being planned.
Attendance to the trade show is "free for bonafide trade visitors".
Safety Institute of Australia (SIA) 24th Annual OHS Visions Conference
Mantra Southport | Gold Coast | 5-7 September 2018
Run by the Queensland branch of the SIA, Visions is a unique and important annual event forming part of the broader national conference and events program at the SIA.
The 2018 event aims to feature high level, contemporary keynote speakers who are experts in their field of study and research, along with WHS Regulators and industry experts discussing current industry topics.
https://www.sia.org.au/events/visions-conference-2018
Queensland Mining Industry Health and Safety Conference
Gold Coast | 19 – 22 August
With the 2017 event featuring six keynote presenters, 55 trade displays and 590 delegates, the Queensland Mining Industry Health and Safety Conference is back again in 2018.
At time of writing they are accepting suggestions from industry for health and safety topics and presenters. The Conference Legends Awards that began in 2017 will also continue, with nominations now open.
http://www.qldminingsafety.org.au
NSW Mining 2015 Health, Safety, Environment & Community (HSEC) Awards and Conference
Hunter Valley | 6-8 August 2018
With the first event held in 2015, HSEC brings together key policy experts and decision makers to share leading practice and celebrate excellence and innovation.
Topics covered include risk, communications and safety through to minimising environmental challenges and strong community engagement.
www.nswmining.com.au/events/health-safety-environment-community-conference
National Skills Week | August 29 – September 4 2016
Not a safety event per se, National Skills Week has run annually since 2011 and seeks to recognise, celebrate and inform students and the wider public of the diversity, benefits and career pathways associated with Vocational Education and Training (VET).
National Safety Council of Australia (NSCA), National Safety Awards
With award nominations for the eight categories open 1 April 2018 and closing 30 June 2018, winners of the NSCA National Safety Awards will be announced mid-October 2018, with dates to be confirmed.
http://www.nationalsafetyawards.com.au
Safe Work Australia (+ State and Territory) Awards
Safe Work Australia and relevant state or territory bodies recognise excellence in work health and safety (WHS) through promoting and supporting national, state and territory awards.
Contact your local safety body for more info.
Awareness Weeks and Days:
International Safe Work Day
Globally | 28 April 2018
Some 6,300 people die every day as a result of work-related accidents or – more than 2.3 million deaths per year. Then there are the approximately 317 million workplace accidents that occur every year, often leaving people without
The World Day for Safety and Health at Work is an annual international campaign to promote workplace health and safety healthy. Held every year on April 28 it is a huge event on the OHS Calendar that is widely supported in Australia by industry organisations and companies alike.
www.un.org/en/events/safeworkday
www.ilo.org/safework/events/safeday
Hearing Awareness Week
Nationally | 20 – 27 August 2018
This campaign provides insight and information and materials assisting people prevent, understand and deal with hearing loss. Given the prevalence of hearing loss in Australian construction industry, it is particularly important one for that industry, as well as any others that face loud noises.
It is driven by the Department of Health Office of Hearing Services and Deafness Forum of Australia.
www.hearingawarenessweek.org.au/
National Safe Work Month
Nationally | October 2018
With events, resources, education kits, an app, virtual seminar series and more, this national safety campaign is a must for every OHS officer's diary.
Click the link to explore the OHS campaign and its various elements.
https://www.safeworkaustralia.gov.au/news-and-events/national-safe-work-month
World Mental Health Day | 10 October 2018
Mental Health Week is a national event, held to coincide with World Mental Health Day (10 October annually), and will run in 2018 from 9 – 15. Australian states and territories also have their own campaigns.
The week and day is an opportunity to promote awareness about mental health and wellbeing, a key factor in workplace health.
http://blog.prochoice.com.au/mental-health/october-mental-health-month/
National Nutrition Week
Nationally | October 2018 – Dates TBC
Run by Nutrition Australia, National Nutrition Week is all about getting all Australians to consume a better and more balance diet.
www.nutritionaustralia.org/national/national-nutrition-week
National Skin Cancer Action Week | November 2018 – Dates TBC
Each year Cancer Council Australia and the Australasian College of Dermatologists come together for National Skin Cancer Action Week.
With two in three Australians diagnosed with skin cancer by age 70, the week is designed to remind Australians of the importance of sun protection and early skin cancer detection.
www.cancer.org.au/preventing-cancer/sun-protection/campaigns-and-events/national-skin-cancer-action-week.html
Asbestos Awareness Week
Nationally | November 2018
Asbestos Awareness Week provides a focus on the dangers related to asbestos and is an opportunity to remember the families affected by asbestos-related diseases through Asbestos Victims Memorial Day activities.
http://blog.prochoice.com.au/workplace-safety/asbestos-awareness-month/
White Ribbon Day | 25 November 2015
White Ribbon is Australia's only national, male-led Campaign to end men's violence against women with the vision of having women live in safety, free from all forms of men's violence.
READ MORE ON WORKPLACE HEALTH AND SAFETY
READ MORE ON WORKPLACE HEALTH AND SAFETY