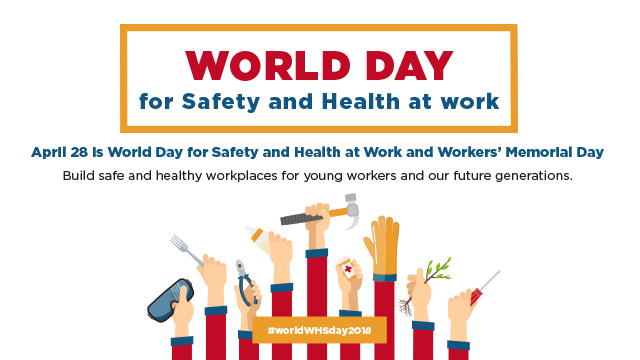 "Generation Safe and Healthy" is the Australian theme for the April 28, 2018 "World Day for Safety and Health at Work and Workers' Memorial Day".
The focus of the day is to "highlight the importance of improving safety and healthy for young workers and our generations to come" according to Safe Work Australia.
As part of the day, the safety body has launched a webpage specifically for young workers – classified as 15-24 year-olds – which has a range of information around keeping young workers safe, including codes, guides, videos, seminars and podcasts.
Safe Work Australia also have a World Safety Day resources page offering posters, social media images, infographics and more.
Young workers' unique risk profile: Intellectual, physical, social
Young workers can bring energy, new ideas and a fresh perspective to a workplace however they face the greatest risk of workplace injury due to their inexperience, limited awareness of work-related hazards, and a lack of bargaining power that can lead them to accept dangerous tasks or jobs, according to the International Labour Organization's (ILO) page on World Safety Day.
Australian statistics reflect that. Young workers are 17 per cent more likely to suffer a work-related injury and 21 per cent more likely to be hospitalised than the average across all ages.
This is partly to do with developmental factors, with young workers often having reduced risk perception, being less likely to ask questions or raise safety concerns and often overestimating their capabilities.
These same workers may also not yet be physically capable enough to perform their jobs comfortably and are at risk of potentially lifelong injuries unless appropriate pre-employment functional testing is performed and workers conditioned to their jobs.
Apprentice bullying three times national average
Australian apprentices suffer bullying at a rate of three times the national average, according to a survey of 797 apprentices cited in a 2012 parliamentary inquiry into workplace bullying. Cyber bullying is also on the increase.
Young people transitioning into the workforce are already most at risk of mental health difficulties, and bullying can potentially lead to increased mental health issues and even suicide.
How to protect young workers:
Effective induction, training, supervision, feedback and mentoring is critical to ensuring young workers work in a safe and healthy environment.
Training should include interactive, hands-on and self-directed learning from a range of sources. Tasks should be designed to focus on developing skills and experience, not just around harm minimisation.
Leadership essential:
Good leadership from employers, supervisors, managers and senior staff is crucial to keeping young workers safe and a positive workplace culture is also essential to provide workers with the support they need and to minimise the occurrence of bullying.
Safe Work Australia's Young Workers page calls for employers to:
provide the right tools, training and supervision to complete their work safely
educate them about their WHS rights and responsibilities
empower them to have the confidence to speak up about health and safety in the workplace
foster a positive workplace culture that engages young workers in WHS.
More on young worker safety from ProChoice:
Young Workers Protection Guide
Onboarding and training young workers
25% of apprentices suffer bullying
READ MORE ON WORKPLACE HEALTH AND SAFETY
READ MORE ON WORKPLACE HEALTH AND SAFETY