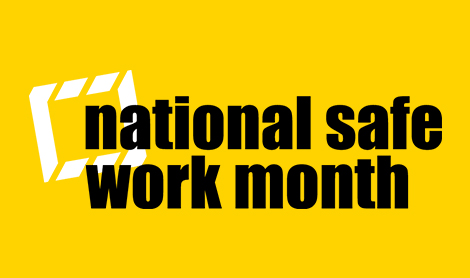 A $5000 reward for a workplace safety initiative is on offer as part of October's National Safe Work Month, along with safety resources, education and communication materials.
The $5k reward is open to any individual (sole trader), business or other organisation who is operating in Australia.
Entrants will be judged on the spirit and enthusiasm of their initiative, the participation and involvement of the organisation, the creativity of any events and the initiative's ongoing sustainability.
Entries open Monday 2 October and close Monday 6 November 2017 with the winner announced in December. Participants can review details of the initiatives implemented by previous years' winners for insight into the type of campaigns the judges are looking for.
As part of Safe Work Month, which has been running for over a decade, Safe Work Australia has also developed a range of resources and materials including posters, safety statistics, workplace activities and digital graphics to help businesses drive workplace health and safety during October.
Further resources and details on local events for National Safe Work Month can be found on the websites of state and territory regulators. See a detailed list here.
Safe Work Australia is also encouraging people to connect with their Facebook, LinkedIn and Twitter pages to stay in touch with news and local events. People can share their October workplace safety stories and initiatives using #safeworkmonth to join the conversation.
Information about how to get involved in National Safe Work Month, including links to free resources, video messages and virtual seminars, can be found on the National Safe Work Month web page.
WHS: Everyone Wins
While not everyone will win the $5k reward, businesses that invest in workplace health and safety programs will see increased productivity, performance, creativity, staff retention and will be better able to attract the best and brightest people.
Reduced staff turnover is also another major benefit. Unsafe or unhealthy organisations are four times more likely to lose talent within the next twelve months than safe and healthy organisations.
In fact, the average business operations cost for a worker who suffers any type of injury or disease from work is $6,800, far more than this reward and that is without considering the financial or emotional cost to the injured worker.
Furthermore, general workplace health initiatives have been found to provide a 600% return on their investment from reduced absenteeism and workers' compensation claims while increasing morale, innovation and general productivity.
Workplace Mental Health ROI
October is also Mental Health Awareness Month and with one in six Australian workers suffering from a mental illness, it is the leading cause of sickness, absence and long term work incapacity and costs businesses $12 billion each year.
Research has found that investing in the mental health of employees also provides significant returns – up to 580% in mining, 350% in manufacturing and 250% in construction.
READ MORE ON WORKPLACE HEALTH AND SAFETY
READ MORE ON WORKPLACE HEALTH AND SAFETY