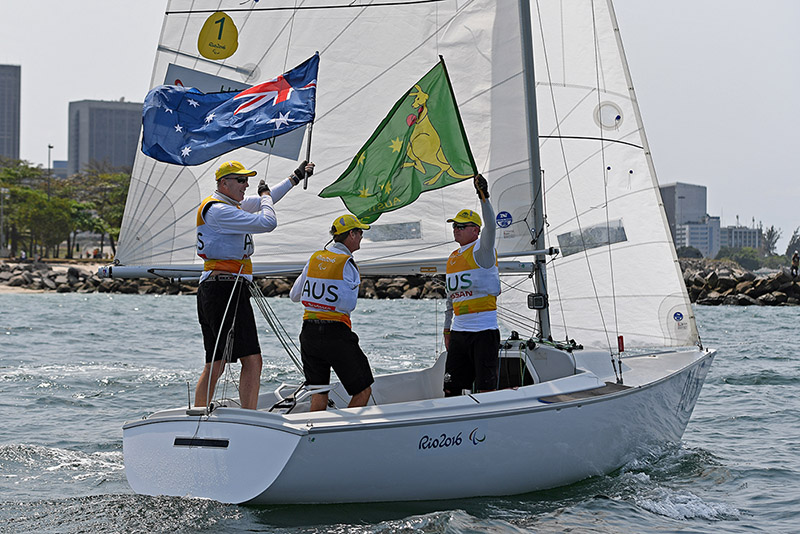 Rio gold medal-winning Paralympic sailor, Colin Harrison has described how a 2008 sponsorship  from Pro Choice founder, the late Rob Bird helped pave his path to victory.
Beating 14 other teams to win the Sonar Class with a clear margin and a race to spare, Colin and his two teammates – Jon Harris and Russell Boaden – were part of the Australian Sailing Team's most successful  Games ever, with a total of three gold and four silver medals at Rio.
The gold medal for the team followed a sixth place in London 2012, a bronze medal in Beijing 2008  and fifth place in Athens 2004.
"It was very much a case of 'unfinished business' after falling short in London. I knew we could do better," Colin said.
"Rob's support set us on the path to finally achieve gold in Rio."
"Sailing is the second most expensive sport in the Olympics, behind Equestrian. So without sponsors we could not move boats around the world and travel to compete in all the events that are necessary to gain selection for the games."
A keen sailor since 1975, Colin had his right arm amputated due to cancer in 1989, with his quest for the Paralympic Games beginning in 2002.
"We had all been waiting and working towards this event for the past four years, so the pressure to deliver our best performance was very real," he said.
"We arrived about two weeks before racing started, to get over jet lag and acclimatise. We also used the time to test our boat and understand weather and tide data on the racecourse," he said, adding that this preparation is critical to feeding strategy and tactics during races. 
With a total of 11 races in the event and the ability to discard their worst result, the team, coached by world champion sailor, Grant Alderson had already won Gold after 10 races.
Colin said that it was dedication to the cause and the support from the right people that got them over the line in the end.
"If you really want something, then a commitment to working towards achieving that goal, for however long it takes, is essential. Surround yourself with the people that will help you on your journey and commit to it," he said.
For Colin, those people included Rob Bird and the team at Paramount Safety.
"I would like to thank them for their support for over the years. They helped our team qualify for the 2012 London games and more importantly, prepare the way for our Rio campaign and ultimately, gold."
The four-time Paralympic competitor said he now planned to step back from international competition to focus on coaching and teaching, sharing his love of sailing with others.
"I'm going to bask in the glory for a while, but after that I'd like to focus on helping others and giving back to the sport that has given me so much."
READ MORE ON WORKPLACE HEALTH AND SAFETY
READ MORE ON WORKPLACE HEALTH AND SAFETY