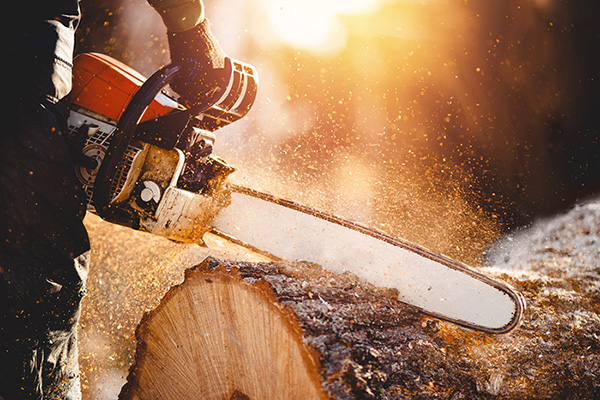 Working as an arborist or in tree work is a dangerous profession with multiple hazards including falls from heights, being struck by falling trees or objects and working around power lines.
Other dangers come from dangerous equipment, musculoskeletal injuries, noise and sun exposure, dehydration, fatigue and stinging trees, bugs and animals,
Given the dangerous nature of tree work, including trimming and removal, it should only be carried out by workers who are suitably trained and experienced, according to a Safe Work Australia tree work guide.
A person conducting a business or undertaking (PCBU) must ensure workers "have the level of training to enable them to perform their designated tasks safely and competently," the guide states.
That includes providing workers with the information, training, instruction and supervision tailored to the nature of the work and its risks, including providing site and equipment-specific training before work starts.
PCBUs must also provide and maintain safe equipment and ensure its safe use. Safe systems must also be in place including an emergency plan and rescue procedures in the event of an incident. "
The failure to provide a safe environment can cost a business dearly, as was the case for a NZ business who was fined NZ$108,500 when a passing woman was struck by a palm tree that a worker was cutting down.
And every year experienced tree workers and arborists are injured or killed in Australia. From 2010-2014, 33 mostly experienced workers were killed by falling vegetation, mainly trees. This accounted for 3 per cent of all worker fatalities during those four years.
Beware the ladder
Due to the significant risks of accessing trees using ladders, tree trimming or removal work should not be performed from a ladder, according to Safe Work Australia's guide.
Analysing arbor and tree work risks:
A risk assessment is a critical process of safe tree work and begins with identifying hazards and then assessing the risks of those hazards. Possible hazards associated with tree work include but are not limited to:
Wind and rain
The condition and stability of the tree
Being struck by falling trees or objects
Working around power lines
Working with chainsaws and other dangerous equipment
Stinging trees, bugs and animals,
Safe Work Australia's guide states that in many cases the risks and related control measures of identified hazards will be well known.
However in other cases you may need to analyse the risk that the hazard presents and determine "the likelihood of somebody being harmed by the hazard and how serious the harm could be".
Appropriate control measures should then be determined using the hierarchy of control.
According to SafeWork NSW's tree work guide, controls should be developed in consultation with workers and then documented to serve as evidence of managing risks.
"Make sure all workers performing jobs with common risks are familiar with current risk control measures in place…regularly remind workers of common controls and re-train workers as frequently as is necessary," the guide states.
Some examples of controls provided in the SafeWork NSW guide include:
Power lines
De-energise the nearby power lines where possible. Otherwise, maintain safe distances using tiger tails where necessary.

 

A spotter should be available to alert the operator to hazards using a communications system understood by everyone involved.

 

Climbing
Secure a suitable rope climbing system by using correct knots at a location on the tree which can withstand the forces of a fall

 

Wear climbing spikes that are maintained as per manufacturer's recommendations (beware climbing spikes can damage tree tissues which can result in infection and decay and can create future hazards).

Always maintain two points of attachments to the tree, particularly while cutting or moving on a dead tree eg use a flip line and a climbing rope

 

Plant and Equipment
Use plant and equipment only within its capabilities and use and maintain it in accordance with manufacturer's recommendations.

 

Do not use mobile plant:

·       on soft ground

·       where underground assets are present

·       on recently filled excavations

·       sloping or uneven surfaces

·       if not designed for the purpose

Ropes should not be attached to the plant or equipment.

The top of the Elevated Work Platform (EWP) basket should be located at the same level or above where the cut is made.

Workers in the EWP basket should wear a full body harness.

 

Chain saws
Never "drop start" a chain saw when working on the ground.

 

Wear cut resistant leg protection, hearing and eye protection when using a chainsaw.

Start and warm up the chainsaw before climbing to prevent starting difficulty while the climber is on the tree.

 

Working in the sun and/or heat
Provide workers with necessary sun protection measures.

 

Implement heat stress and hydration management measures.
A detailed outline of further risks and control measures in tree work are available in Safe Work Australia's guide.
Other resources:
SafeWork NSW Tree work safe practices self-assessment checklist
Workcover NSW Code of practice for work near overhead power lines
Clause 221 of the work health and safety regulation 2017: plant used in connection with tree work.
The Tree Contractors Association Australia (TCAA)
Sign Up for Exclusive Content
READ MORE ON WORKPLACE HEALTH AND SAFETY
READ MORE ON WORKPLACE HEALTH AND SAFETY