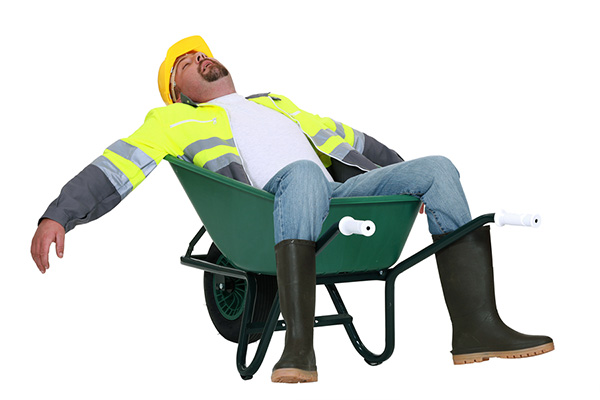 Young workers entering the blue collar workforce are often not physically capable enough for their jobs and are at risk of potentially lifelong injuries, according to industrial exercise physiologist, Eoghan Mckenna.
With many unconditioned young workers going into laboring roles every new year as they transition into the workforce, and with laborers being one of the most common jobs where musculoskeletal injuries occur, injuries are inevitable, according to Eoghan Mackenna, an exercise physiologist and director of occupational health specialists, Logic Health.
 "We see a lot of young workers entering the workforce who are not conditioned for the job and there is particular concern about the next generation coming through," Eoghan said.
"Obesity and diabetes are not something previous generations have had to deal with to the same extent. Due to less technological advances they were better conditioned. They were job hardened," Eoghan said, adding that less conditioned workers are more susceptible to sprain and strain injuries.
And the damage they do can be permanent.
"You can herniate discs or tear a rotator cuff or ACL (anterior cruciate ligament); injuries which can lead to lifelong problems," he said, describing reduced function, capacity and earning ability which may also contribute to mental health issues.
"Sprains and strains have a big knock-on effect into the mental health space – especially when they are long term injuries," Eoghan said.
Despite the potential consequences of pushing their bodies too far, young workers often ignore the risks.
"There can be an invincibility mentality among young guys. They think they can do anything."
However Eoghan said that older workers are also at risk, especially if they become complacent after years on the job, have chronic injuries or have become deconditioned.
Employers too, often don't pay enough attention to existing or potential worker's lack of conditioning for a role, with often non-existent or inadequate pre-employment testing.
This is despite workers' compensation statistics showing that body stressing costs business an average of $68,000 per injury.
Pre-employment functional  testing
"A functional assessment where someone is asked to bend over and touch their toes isn't worth the paper it's written on. You need job specific testing that proves they are capable of the inherent physical demands of that job," Eoghan said.
"Let's say you're a concreter. You are stooped over all day and have a high risk of back or shoulder injury."
"A pre-employment functional assessment needs to test those high risk areas in ways that fatigue occurs to see if people have any underlying pathology or current injuries and can meet the physical demands of the job."
"People won't tell you that they have a bad back or a bad shoulder, you have to comprehensively test them as part of a fact finding mission."
Eoghan said those facts will enable employees to make clear decisions as to whether that person is suitable for a particular job, or how to appropriately condition an existing employee.
"If a current employee is not sufficiently conditioned for a job, you need to implement strategies to get them to where they should be," he said.
Appropriate Training
Regardless of a new employee's physical condition, Eoghan said companies must conduct relevant and realistic manual handling training.
"Traditional manual handling training is ineffective in reducing injuries where as having a participative ergonomics approach is proven to be more successful."
"If employers can get physios or exercise physiologists to work on the job alongside the employees and help with concrete pours, off siding, digging holes etc, while providing relevant and realistic solutions in consultation with the employees, that is where the best outcomes arise.".
READ MORE ON WORKPLACE HEALTH AND SAFETY
READ MORE ON WORKPLACE HEALTH AND SAFETY